Russia sees no dangers from Beijing's relaxation of measures to fight COVID-19 and will not impose extra restrictions on people arriving from China, Tass news agency cited a senior official as saying on Thursday.
China last month abandoned a strict anti-virus regime of mass lockdowns, prompting a rise in the number of reported infections. As the outbreak spread, more than a dozen countries have demanded negative test results from travelers arriving from China.
"We do not expect any special dangers here today," Tass cited Anna Popova, head of the consumer safety watchdog Rospotrebnadzor, as telling state television. "We are not introducing any additional measures against people arriving from China."
CHINA ACTS AGAINST COVID POLICY CRITICS, SUSPENDS SOCIAL MEDIA ACCOUNTS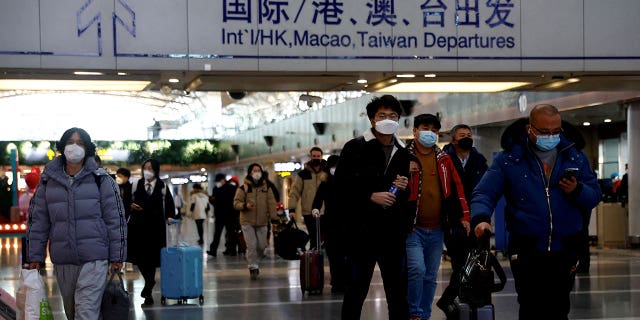 Travelers walk at the Beijing Capital International Airport on Dec. 27, 2022, amid a COVID-19 outbreak in China.  (REUTERS/Tingshu Wang/File Photo/File Photo)
.
Beijing on Sunday dropped quarantine mandates for inbound visitors in a move expected to eventually also stimulate outbound travel.
Russia and China are ready to resume mutual travel as soon as possible and deepen their strategic cooperation, China's ambassador to Russia said in remarks published on Wednesday.
Since sending troops into Ukraine in February, Russia has turned its back on Western powers and instead courted the rising global power of long-time rival China.
(This story has not been created/edited by Unicaus and is auto-generated from a syndicated feed.)