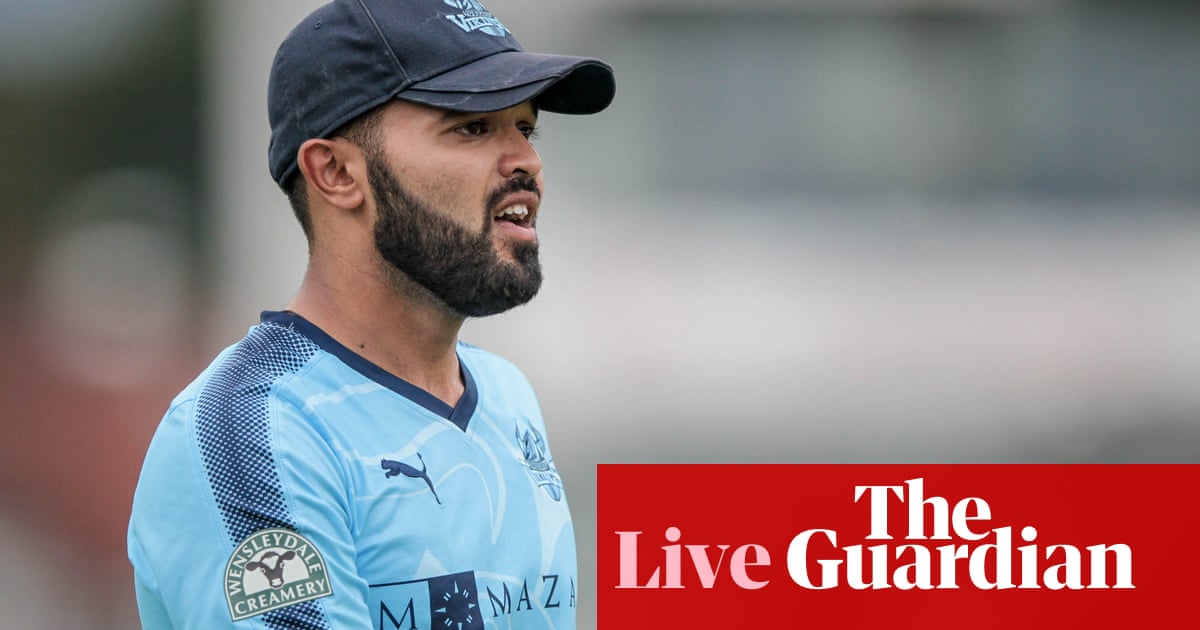 This timeline from PA Media helps illustrate Azeem Rafiq's long road to this point:
2 September 2020 In an interview with ESPNcricinfo, former England Under-19 captain Rafiq reveals: "I know how close I was to committing suicide during my time at Yorkshire" over what he describes as "institutional racism" at the county.
3 September Yorkshire chairman Roger Hutton confirms a formal investigation into Rafiq's claims will "start in a matter of days" and be conducted "thoroughly, impartially and with urgency".
18 August 2021 ECB chair Ian Watmore calls on Yorkshire to provide a copy of the investigation's findings after he confirms the independent enquiry had sent its conclusions to the county, with Rafiq revealing his exasperation with the continued delays to the process.
19 August Rafiq accuses Yorkshire of "fudging" his claims of institutional racism after the county apologise to the former spinner for being the "victim of inappropriate behaviour" but insist "many of the allegations were not upheld" in a lengthy statement.
10 September Yorkshire release a summarised version of their independent report, where they apologise and accept Rafiq had been the victim of "racial harassment and bullying" in his two spells at the club between 2008 and 2018, but after only seven of Rafiq's 43 allegations were upheld the county insist there is insufficient evidence to prove or disprove institutionalised racism.
7 October A spokesperson for Rafiq accuses Yorkshire of "protecting the players and a coach who they now acknowledge used either racist language or were bullying" with the full report still not published.
28 October Yorkshire announce no individuals will face disciplinary action despite seven of Rafiq's allegations being upheld.
2 November ESPNcricinfo reveals details of the report into Rafiq's claims, which includes the admission of one senior player that he used the P-word reference to Rafiq, but Yorkshire conclude the incidents in question amounted to "friendly banter".
3 November Emerald Group Publishing, Yorkshire Tea and Anchor Butter all end their association with Yorkshire over the handling of Rafiq's allegations. Meanwhile, former England batter Gary Ballance reveals he used "a racial slur" against Rafiq but claimed both men "said things privately to each other which were not acceptable".
4 November The ECB suspends Yorkshire from hosting international or major matches, while Ballance is "suspended indefinitely" from England selection.
5 November Ahead of an emergency board meeting Hutton resigns as Yorkshire chairman, calling on the executive board to follow suit and saying he was "saddened" after claiming the ECB declined to help in their enquiry. Former Yorkshire all-rounder Rana Naved-ul-Hasan claims he heard former England captain Michael Vaughan make inappropriate comments to Asian players at the club, something which Rafiq had also alleged and which Vaughan denies.
11 November Mark Arthur resigns as Yorkshire's chief executive.
15 November Adil Rashid joins Rana in backing Rafiq's claim related to Vaughan. The trio allege Vaughan said in front of a group of Yorkshire players of Asian ethnicity: "Too many of your lot, we need to do something about it."
Hello and welcome to live coverage of today's digital, culture, media and sport committee hearing called to examine Yorkshire's county cricket club's response to the racism allegations made by Azeem Rafiq.
The hearing begins at 9.30am GMT with Rafiq's evidence; Roger Hutton, Yorkshire's former chairman, is expected at around 10.15am, and the ECB chief executive Tom Harrison at 11.15am. Other ECB representatives are also scheduled to appear: Kate Miller, the chief diversity and communications officer; Meena Botros, the director of legal and integrity, and Alan Dickinson, a non-executive director.
This, from Ali Martin's explainer, outlines why we are here today:
In 2020 Azeem Rafiq went public with allegations of the racism he says he experienced while a player at Yorkshire during two spells from 2008 to 2014 and 2016 to 2018. This prompted a 12-month investigation by the club, with a summary of the resulting report released in September upholding seven of Rafiq's 43 claims and confirming he was the victim of "racial harassment" in his first spell and bullying during the second.

Despite a conclusion that the club failed to properly escalate his initial complaints in 2018 as per its own policies, the club announced on 28 October that no action would be taken against any current employee. This, plus a leaked element of the still unpublished report that showed the panel considered the use of the P-word towards Rafiq to be "in the spirit of friendly banter", prompted a raft of MPs to voice their displeasure earlier this month and saw Julian Knight, chair of the digital, culture, media and sport select committee, set up Tuesday's hearing to get to the bottom of the issue.