19th over: Australia 25-1 (Warner 9, Labuschagne 10) Bingo, full set, we've cycled through all five England seamers. Ben Stokes on for his first over. Bowling from the Cathedral End, loping in.
I saw him doing a lot of work on landing his front foot in the nets yesterday. After each delivery, bowling coach Jon Lewis would move the marker for Stokes' run-up. Meaning the bowler randomly started at different spots and had to land on the front line.

One run for Warner behind point.
18th over: Australia 24-1 (Warner 8, Labuschagne 10) Broad returns. Warner facing. Immediately something happens again: Warner lashes wide with a cut shot, hitting on the bounce straight to point. He's tucked up and defending the next on leg stump. Then Broad has it tailing into leg stump, letting Warner drive through mid-on, that long chase down Adelaide Oval that has them thinking of a fourth run, deciding against it due to Stokes being the fielder with the throw.
Broad looks good against Labuschagne, too. Tests his outside edge a couple of times.
Warm day in Adelaide, lovely afternoon. Very full in all of the western stands, empty tranches on the eastern side.
17th over: Australia 20-1 (Warner 5, Labuschagne 10) Robinson to Labuschagne, who also bats out the set. Australia very happy to wait out the even vaguely newish ball.
16th over: Australia 20-1 (Warner 5, Labuschagne 10) Another maiden from Woakes to Warner, who is now 5 from 44. Broad has only bowled four overs, and is the one to have made things happen.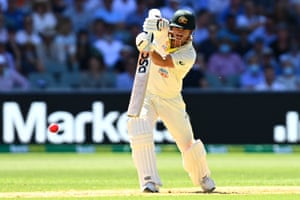 "I sympathise with that review process taking so long, although it's infuriating," writes Robert Speed. "The ICC want a clear protocol for how LBW reviews are undertaken, only going to ball tracking once its is established there was no bat involved. Unfortunately it cost us 5 minutes of nothing happening, but I can understand the protocol."
I see where you're coming from – the protocol was largely so that umpires didn't forget anything and audiences knew what was happening. But I've been in the truck where the tech guys are, and they know almost everything simultaneously. Aside from sometimes a processing delay for 20 seconds or so with ball-tracking.
There is someone running the audio waveform, someone on Hot Spot, someone on ball-tracking, all separately.
As it stands, they get no input to the third umpire, who sits upstairs and goes over each thing in order. But it seems absurd that one point of the process that would obviate the need for the rest can't be put in front of the adjudicator.
15th over: Australia 20-1 (Warner 5, Labuschagne 10) This would have been a much better story had England batted first, the new Australians pushed immediately into the spotlight. This way around it gives the home team time to settle without feeling the loss of a captain.
Robinson is testing out Labuschagne, who is doing Tony Hawk Pro Skater moves while leaving the ball outside off stump. Do a 720, dude.

14th over: Australia 20-1 (Warner 5, Labuschagne 10) Warner hits a four! Finally, after 13 overs of largely suffocating bowling, Woakes dishes him up a short wide one and Warner has both feet off the ground as he makes contact with the cut shot, slamming it through cover. Emphatic.
Woakes follows with a genuine wide, called by the umpire.
13th over: Australia 15-1 (Warner 1, Labuschagne 10) Drinks break after 12 overs, which augurs well for England's run rate. Wonder if they'll be playing for free again, after losing 100% of their match fee in Brisbane? And yes, if you're wondering, they did lose a review for that last effort, so they have one left for the innings and Australia three.
Robinson resumes to Labuschagne, who keeps him out.

12th over: Australia 15-1 (Warner 1, Labuschagne 10) Another review down. Ok, this one will cause some consternation. Woakes, over the wicket to Warner. Pitched up, swing into the lefty. Hits him in line, but he's pushing forward at the ball at the same time. Not 100% sure it was going on to hit, might have gone over, he's a fair way down the wicket. But all of the DRS analysis is on the inside edge. Like Kohli the other week, it's bat and pad at the same time. But not really. I'm pretty sure that's pad first. The leg is pushed forward, the bat is angled back. But the third umpire says he can't tell what was first, thus the review is void.
Wait. Aaaaah ha ha! It was pitching outside leg. By a fraction. So the umpire just rock-and-rolled the inside edge for about six minutes, instead of looking at the pitch map for 0.04 seconds.
Cricket, you are a foolish sport.

11th over: Australia 15-1 (Warner 1, Labuschagne 10) Young Marnus is in serious touch. Scoring from the get go. He's helped by Robinson starting rustily, two straight balls that Labuschagne can tuck away for two runs apiece.
10th over: Australia 11-1 (Warner 1, Labuschagne 6) Broad goes off the field for a minute, then back. Chris Woakes gets a bowl for the first time today, the specialist No8 in this side. He's right-arm over, angling across the left-hander, so Warner is pretty happy to leave him alone.
9th over: Australia 11-1 (Warner 1, Labuschagne 6) How often would David Warner have got into the 9th over of a match without scoring? Anyone want to work that out for me? He finally gets moving here with a driven single, after Labuschagne eases another drive from Anderson through mid-off.
8th over: Australia 7-1 (Warner 0, Labuschagne 3) You can't say that the early wicket of Harris is exactly a surprise, given his entire Test career has been comprised of the early wicket of Harris, but at least it means the match can start for real. Marnus Labuschagne gets going immediately with a push for three runs past the bowler. Bringing Warner on strike, who is immediately prompting an England review after walking at a ball and fencing as it cut back in off the seam. England's players all think or hope there was an inside edge, but no, and it's clearing the stumps on ball-tracking. Review lost. Broad one wicket for four runs from four overs.
That one can't be overturned! Not a great ball from Broad, short and angled across the left-hander from around the wicket but Harris hooks, gets nothing but glove on it, and Buttler side-steps before completing a very fine diving catch down the leg side. Broad is away.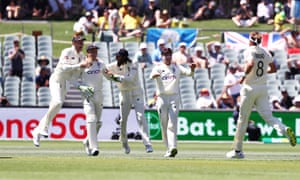 7th over: Australia 4-0 (Harris 3, Warner 0) Three runs off the bat in 42 balls thus far, the opening bats taking their task of survival seriously as Warner defends Anderson.
"Morning Geoff, from a very dark south London," writes Andrew Cosgrove. "Are you in Adelaide? I spent a few months there many years ago, and absolutely loved it, so it's always my favourite Ashes test. Is the British pub still there in North Adelaide? On the edge by the parkland. You can probably see it from the Oval."
I am indeed in Adelaide, beautiful city that it can be in summer. Walked down the river here this morning, the gardens are bursting, the markets are full with fruit, life is good for anyone who didn't get contact-traced in a restaurant last night.
Haven't got to North Adelaide yet, so can't offer a recce. Outings limited to the Exeter thus far, fine institution that it is, plus a live podcast at the UniBar.
6th over: Australia 4-0 (Harris 3, Warner 0) Stuart Broad so nearly has the early influence on this match. The ball did hit Harris around the knee roll, but he had that front leg straightened and he isn't very tall. Quite the reprieve. He carefully sees out the over – which includes a late no-ball.
Looked very out live, and still looked out on the front angle. But the ball-tracking shows that given Broad's angle at delivery, the ball would have missed down the leg side.
Given, and sent upstairs! Looks good.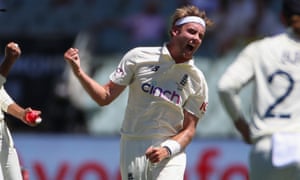 5th over: Australia 3-0 (Harris 3, Warner 0) Anderson to Warner now, another good looking ball that leaves him and beats the edge, but again too short in pitch, too far from that edge. Tries a proper short ball to follow, then at last pitches up and draws a forward defensive. One scoring shot in 30 balls now. Only one attempt, too.
4th over: Australia 3-0 (Harris 3, Warner 0) Now it's Harris who has to deal with Broad, and he too faces a big lbw shout early in the over. Might have been a little inside edge, might have just hit outside the line. Harris gets the line to allow a few leaves. Tight start.
3rd over: Australia 3-0 (Harris 3, Warner 0) Anderson keeps angling across Harris, trying to draw him across, then bowls straight at the stumps and gives up the first runs of the Test, Harris clipping him away through midwicket and hustling for three runs.
2nd over: Australia 0-0 (Harris 0, Warner 0) Here comes the contest, Broad to Warner, first ball…
Huge appeal, not out! Warner leaves the ball! Seaming into him, he leaves it alone on length, and it crashes into his thigh pad, just above the flap. Going over, but he didn't read that. Broad from around the wicket, of course, using that angle to work the ball in. Slips one down leg side looking for inswing. The radar is being generous to Broad, claiming he's 141 kph. Three slips, gully, point, mid-off, mid-on, deep square, long leg. Short ball but Warner rocks back and leaves. No run in two overs.
1st over: Australia 0-0 (Harris 0, Warner 0) Anderson with the new ball, Harris on strike, and Anderson is looking good! Starts with a wider one across the left-hander, but follows it with one that snorts off a length and beats the outside edge of an unsure defensive push. Probably pitched it too short though, it was no chance of taking that edge. A bit of an Anderson theme early in spells. Harris sees out the rest of the over.
Apparently the stump mic just picked up Broad from mid-on asking Warner if he still takes an off-stump guard.
Ready? Let's play a little game we like to call Test match cricket.
"Did no one give any thought to viewers in Dallas when they planned a day-night test? The first ball isn't going to be bowled until 10pm my time. How can I force my six year old to like cricket if he's already asleep when it starts? Bah humbug."
Ben Mimmack, I can assure you that viewers in Dallas are actually relatively high on the agendas of people at the ICC.
Before the anthems though, there's a tribute to Keith Bradshaw, the pioneer of the game, with the inaugural ringing of the Bradshaw Bell – symbolic of the tradition Keith established at Lord's. The Welcome to Country follows, and then the national anthems.
Here they come. "And Australia, led by captain Steve Smith" the stadium announcer booms over the tannoy, to what sounds like pretty enthused applause from the stands.
Today's field umpires are Rod Tucker and Paul Wilson, the third and fourth umpires are Paul Reiffel and Sam Najoski, respectively. And match referee is David Boon.
The start of play is not too far away now and that means the prospect of Broad to Warner looms. The players are about to come out for the anthems.
The weather? Have we talked about the weather yet? It's currently 28C in Adelaide and it looks quite glorious out there. Not a chance of rain , and we'll have a full day of play.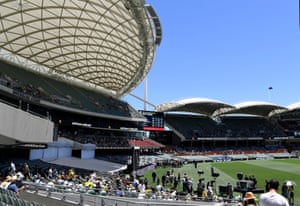 With Stuart Broad in the England side, it's spinner Jack Leach who misses out.
"Made a brave call," says Root. "But we said we're going to do that from the outset. It's a good opportunity for our seamers to hopefully make use of a fresh wicket."
Root says: "It looks a good surface. As you would expect here. But the one thing we will have is that pink ball in hand early on, especially with the glare, could work in our favour. We will have to wait and see."
On the big news of the day: "It's unfortunate, it's the world we're living in. It's one of the things you're obviously very wary of as players. It's one of those very unfortunate set of circumstances where he has had to miss out. But we fully respect the rest of their squad and we know what they're capable of. So we just need to play well. Especially first innings, make a big score and hopefully first up take some early wickets and drive the game there."
Smith says it was a straightforward decision to bat.
"I think you can control the game and sometimes when you want to bowl at certain times if you bat first. So hopefully we can put some runs on the board and control the game."
On taking on the captaincy again, he says: "It's a huge honour, obviously. It's been a pretty interesting morning. A bit been going on, but, yeah, feel for Patty. Obviously missing this game. But I will try and lead on the way he started last week, and hopefully he can have a really good week.
"He just said "Good luck, go for it, it's your team this week, control the boys and just keep moving forward."
Steve Smith, back as captain for the first time in three years, wins the toss. His counterpart Joe Root says he would have batted too.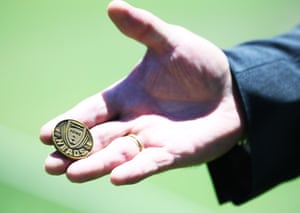 "Weren't Smith and Warner ruled never to be allowed authority positions in the Oz team after sandpapergate? Has that been overturned or overlooked or did I dream it?"
You didn't dream it, Clive Darwell, you just embellished it. Warner is banned for life, Smith was banned for two years.
"Let's not ask why some idiot was at a restaurant when he should have been in quarantine awaiting his test results," writes in Peter Hutchinson.
I'm not sure what the details around the rules and the case are there, so I'll hold fire before I start sledging anyone.
Less involved warm-ups for the Australians. Nathan Lyon is twirling down a few on one of the practice wickets. A few others are wandering about, taking a few high balls in fielding drills, that sort of thing. Carey is rehearsing some squats and sidesteps, getting his frog muscles warmed up. Pretty casual stuff.
Anderson has given Broad his 150th cap, that's how Ali knows that. So Broad will play. Anderson will play. Mind you, Jack Leach is out in the middle warming up with everyone else. So is he playing after all? That could only happen if Woakes (the only No8) or Robinson misses out. They're both in the middle too. Maybe England have dropped a batter. Maybe it wouldn't make much difference.
Ali Martin, my colleague in the next seat, suggests that yesterday's speculation at the nets is all thistledown on the winds of time.
Short break there, I've just been listening to Nick Hockley, the CA boss, who stopped by to give us the update. A fairly comprehensive non-answering of questions, as ever, aside from confirming what we already knew from the press release about how Cummins got implicated (and how Starc and Lyon didn't).
He doesn't answer a question about whether they went up the chain to the prime minister's office in an effort to get Cummins cleared to play. He doesn't answer whether the protocols for players will change in the wake of this. He does say that everyone should accept Steve Smith's return because he's a changed man.
What about England? I just watched Stuart Broad walk across the ground in the arriving stream of players. He was with Anderson, Stokes and Robinson. My analysis of body language is: inconclusive. He was wearing blue sneakers. WHAT DOES IT MEAN?
If the Adelaide Strikers were out of town today, Australia would have been grabbing someone from first-grade cricket. My colleague Bharat Sundaresan, an Adelaide local, suggests that Tim Oakley would have been the frontrunner for an emergency baggy green.
Speaking of Starc, he was at the same restaurant last night, with Nathan Lyon. By fortune they were at an outside table, so they weren't near the problem case and they're free to play. Imagine if Australia's whole Brisbane bowling attack got wiped out? Usman Khawaja and Mitchell Swepson are the only remaining players in the squad.
Well! Jhye Richardson and Michael Neser are both very good operators, but if England can't win this match then they can't win anything. What an opportunity. The effect of losing a captain isn't necessarily the most influential, but the discombobulation of losing the team's pace spearhead is much bigger. In Brisbane, as per usual, Josh Hazlewood had the new ball and Cummins took it over from Mitchell Starc after two overs.
This time, both Hazlewood and Cummins are gone.
Hello from Adelaide! Just a quiet, uneventful morning, the long build-up to an afternoon Test match…
No, who am I kidding. The Australian captain has been close-contacted out of the match thanks to South Australia's rules. Patrick Cummins was out to dinner last night, Australian time. I'm reliably informed it was at the Little Hunter Steakhouse. They have a home-made royal blue potato gnocchi that looks worth a lockdown. Someone at the next table then got a health department message that they had tested positive for Covid, and told the diners around them. Which meant that Cummins was now a close contact. (Phone check-in data would have pinged him on this anyway, but maybe not for a few more days.)
So, protocol says he has to isolate for seven days. He can't play here. Michael Neser will make his long-delayed Test debut. And Steven Smith is now captaining Australia once again.