45th over: England 86-4 (Stokes 3, Pope 4)
It's Lyon from the other end, unsurprisingly. The first one grips encouragingly. Stokes is in ultra-defence mode, with all those exaggerated movements. He is extremely deep in his crease. Lyon tries an arm-ball, it beats him, there's a half-shout. Too high. Incredible how deep Stokes is. He does this surrounded by four men: two slips, silly mid off, and a bat-pad.
44th over: England 86-4 (Stokes 3, Pope 4)
Starc resumes with four balls left. The Barmy Army defiantly sing Jerusalem. Pope defends in the main. He then clips him beautifully through mid wicket for four. It's a big day for Pope. Mike Atherton on SEN is currently talking about him, saying he looks "frenetic at times" when commencing his innings.
Players are heading onto the ground.
We'll be away shortly. Before we do, I'd love your views. How much of England's current malaise owes to specific selection/tactical mismanagement versus a broader systemic failure? Is there a team/setup within this squad that could change the fortunes of this series, or is the issue deeper?
Ben asks: "Can we laugh at someone getting hit in the nurries?"
"Hi Sam,
I think that after yesterday's play society at large is facing an enormous ethical dilemma. Can we laugh at someone getting hit in the nurries?The TV commentary was all sanctimonious (and completely unbelievable) "I hope he's ok" and "you don't want to see that" while in other quarters there was a deal of wry humour. Starc seemed to stifle a smile, Stokes didn't bother.But a bloke's writhing on the ground with an injury that can presumably have long-term consequences. Can we laugh because he's a Pom? If a female cricket had the misfortune to suffer something similar can we laugh? Do female cricketers laugh? Can't imagine it.Anyhoo, food for thought. Perhaps more Grade Cricketer territory so happy to get a response there, perhaps on TGC Fridays.
Hope you get a long stint on the OBO, would be fun to see this draw out over a few hours.
Cheers"
Thanks Ben. Ethics around the hitting of "nurries" is a rich and dynamic area. Personally, I didn't laugh when Root was hit for a second time until it was clear he was (relatively) okay. After that, fill your boots.
"All power to you writing this blog today, Pez," says JG.
"You can't polish a turd…but you can dip it in glitter!"
We're firmly in the gallows, aren't we?
Need a refresh on yesterday? Here's Jonathan Liew on "a sometimes comical" day four in Adelaide (for England).
Bit going on in the press box yesterday
Here's Geoff Lemon explaining what went down, and what it might mean for the rest of the series.
Adelaide's weather is fine, fine, fine
I'm trying to conjure reasons for England to be hopeful. Weather isn't one. It's fine and sunny for the entire afternoon, and clear into the evening.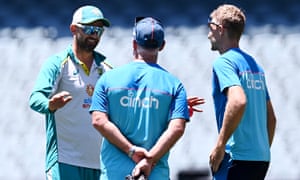 Hello all and salutations. If you're still up in England to savour the final throes of this Test, I don't know what to say. Are you OK? Why?
No, all power to you. Wouldn't it be incredible if by some unbelievable twist England left Adelaide only 1-0 down?
But, that is very unlikely to happen. Instead, we gather today to witness the administering of last rites and all that. Australia needs six wickets, England need to score either infinite runs or bat infinite time. Or at least that's how it feels. Judging from Nathan Lyon's turn last night, life is going to be very difficult indeed for the men who come in after Joe Root.
At the same time, things are starting to feel a little dicey on the Covid front. I'm told a large swathe of print journos and broadcasters have escaped Adelaide for Melbourne. Though the press may enjoy thinking itself critical to the delivery of the game – the point is more important as it underscores growing fear the virus may be about to compromise all.
Anyway, I'm here to parse mainly the former, but as it develops, possibly the latter, too. Is there any hope on either front? Let me know. I'm at sam.perry.freelance@theguardian.com or on Twitter at @sjjperry. First ball is in 40 mins or so. Stokes and Pope … is there any light here?