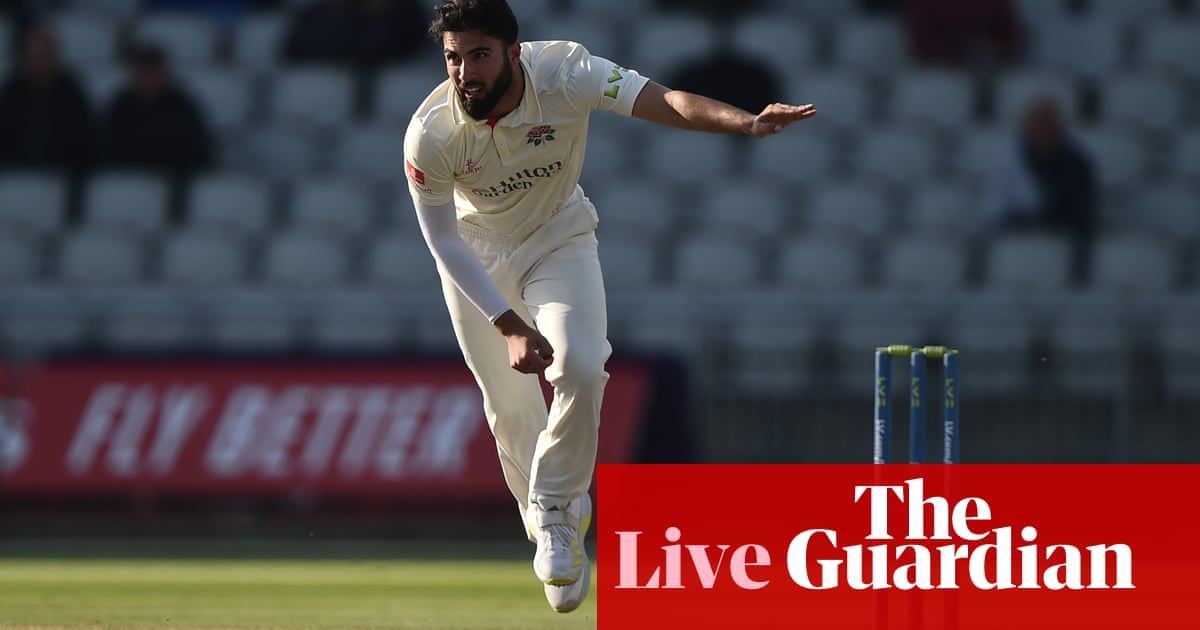 Yorkshire frustrated, as the home team get through at 175 for 9. Abbott faced 51 balls for 9. Wheal faced 22 without scoring. And they're home.
All nine fielders around the bat for Dom Bess bowling with seven balls to go. No joy as Wheal defends.
Last match standing. Abbott and Wheal roll on…
Hampshire nine down! Decks in, beats the edge and hits the back leg in front of off stick. Brilliant from Thompson to get something out of this surface. Vince 42 from 151 deliveries, he's battled hard against Yorkshire. Abbott and Brad Wheal are Hampshire's last hope.
Just the 26 runs per over needed for Hampshire to match those other two teams. They're 177 for 8 as Abbott gets clattered in the box by Fish.
Brett d'Oliveira smashes them around the place. He's 56 off 30 balls as he brings the equation down to 2 to win. Then he gets a leg bye, and sprints back for a single when Jake Libby drives into the covers for Libby's 124th run. They win with a score of 313 for 4. Sussex had a lead of 51 on the first innings, and some special performances from their very young players like Lenham and Ibrahim
Four overs left. Lace 67 and van Buuren 53. A remarkable comeback after being shot out for 191 in the first innings, when Northants made 327. Timed their run really well today. They're 267 for 4 as they win.
Worcs, meanwhile, need 21 to win from six overs.
Northants all but give up the match on their own: Kerrigan bowls down leg, the umpire wides it as negative bowling, and the keeper misses it thus conceding five wides. Four to win for G-shire.
Kyle Abbott is so far hanging tough with James Vince for Hampshire, looking for a draw.
Meanwhile at Worcester, Dolly is 27 from 17 balls, and Worcs need 36 to win. It's on there as well!
Kerrigan loses his grip on one, high full toss, and Graeme van Buuren punts it into the midwicket seats. He's 51 from 43 balls, and he needs 18 more to win it.
Another boundary in Bristol, and The Freaks need 33 from the last 10 overs! They're on here. Lace 55, van Buuren 37, they're 233 for 4.
Ben Cox is out up in Worcester. Archie Lenham bags him for Sussex. But Brett d'Oliveira comes out swinging. Worcs need 60 to win. They're 255 for 4.
Gloucestershire need 42 from 11 overs… and Tom Lace pings a cover drive for four to take that target to 38.
Keith Barker is caught behind off Thompson. A little push by the left-hander. Hampshire are 158 for 8! Yorkshire within sight…
Graeme van Buuren slog-sweeps six over midwicket from Kerrigan. Gloucestershire are coming against Northants. They need 50 as he drives a single to keep strike. He has 31. They're 215 for 4.
He's 109 not out, having taken Worcestershire to 263 for 3. So they need 79 in about 15 overs.
Hammond for Gloucestershire got out for 94, bowled by Taylor. Lace and van Buuren have the chase down to 60 required…
13 off an over for Gloucs, bringing the requirement down to 71 more runs.
Worcestershire need 92 with seven wickets in hand, Gloucestershire need 80 with six wickets in hand. Will either make a charge?
Another one down at Southampton! McManus is bowled by Jordan Thompson for 8. Hampshire 146 for 7, and the finish grows tighter…
Quelle surprise. Matt Lamb on 36 from 117 has stifled this game to its end. Danny Briggs is 11 not out. Warks 239 for 6, and we never got into a fourth innings.
No change in any of our dead-bat scenarios in the last 10 minutes or so. Vince and McManus for Hants, Lamb and Briggs for Warks, Libby and Cox for Worcs…
but as I type, Gloucs skipper Chris Dent falls at Bristol. Another wicket for Milo Kerrigan. They're 168 for 4, and 98 from winning.
At the same time, Shardul Thakur has smashed 53 not out from 31 balls for India at The Oval.
Miles Hammond is starting to think about a third century in his first-class career, on 87 for Gloucestershire. Can't see them going for the win, 115 runs away from that, while only going at a steady pace. Going on the attack for a few overs could chance things quickly though.
Jack Haynes is out for 62, caught and bowled by Fynn Hudson-Prentice. Worcestershire 160 for 3. Any chance of Sussex taking seven wickets?
Parky has bowled 42 overs for Lancashire, poor lad, and has his fourth wicket to make Warks 223. In true leg-spinner's style he gets it with a full toss after a couple of boundaries, Michael Burgess dragging it to mid on.
That was a few overs ago. Warks 225 for 6, safe as houses.
Now Dawson goes! Leg before to Fisher for 0! Yorkshire chisel an opening. James Vince is still there, resolutely 12 from 81 balls, but now his keeper Lewis McManus is coming out to join him. Hampshire 122 for 6.
Hampshire 122 for 5. They're a notional 271 runs behind Yorkshire, and more importantly have a session to play out. Liam Dawson joins James Vince.
I repeat, Mason Crane is out. Has been dismissed. His innings has come to an end. He tries to leave a ball from Matt Fisher, doesn't get the bat up high enough, and the ball comes off the face and into the cordon where Adam Lyth takes the catch. Crane faced 197 balls and batted from the third evening until after tea on the fourth day.
Roland-Jones gets 5 for 36 in the end, bowling Thomson for 18, and that is that. Correct my maths if I'm wrong in saying that Middlesex will go top of Division 3 with 18 points for the win and four batting bonus points, at least. Might be some bowling bonuses in there too.
Butter your scones, cream your jam, jam your cream.
Gloucestershire 123 for 3: Hammond on 78, Lace on 4. Can they get 142 runs in the final session? Doubtful. Can they lose seven wickets to Northants? Possibly.
Hampshire 118 for 4: Mason Crane on 28 from 192 balls. Can they score 274 in a session? No. Will they try to score 24 in a session? No. Can they avoid losing six wickets to Yorkshire? On current evidence, yes.
Warwickshire 201 for 5: Lam on 19. It's only the third innings and they're 231 ahead. Can anything happen? No. Handshakes at the earliest.
Worcestershire 129 for 2: Libby 57, Haynes 44. Can they make 184 runs in the final session? No. Can they lose eight wickets to Sussex? Conceivably.
Middlesex and Derbyshire have had the tea break delayed because TRJ has dismissed Sam Connors for 2, leaving one wicket needed to win. Ben Aitchison is out there with Alex Thomson.
Milo Kerrigan into the action. Gets Chris Dent caught behind, does the spinner, for 26. Gloucestershire are now 111 for 3, behind by 155 as the tea break approaches.
Jake Libby gets to a half-century for Worcestershire. He's been batting for 24 overs so far with Jack Haynes. They're 112 for 2, trailing Sussex by 203.
For those interested in the Crane boundary (everyone) it was an inside edge to fine leg.
Also, has anyone else been struck by the look of that pitch? A kind of scabrous orangey mange, sucking the life out of the ball as soon as they meet.
Crane has scored a second boundary. Repeat. A second boundary. He's 28 from 171 balls, strike rate lifted to 16.37.
Hampshire 114 for 4, runs irrelevant, just needing to bat another session.
Middlesex racing towards a win now. An over of flukes when Martin Andersson comes on, from two Matt Critchley shots. First Critchley flat-bats a ball back past the bowler, who sticks a hand out and deflects it onto the far stumps, running out Anuj Dal. Then Critchley tries to pull a short ball, and gets a toe end leading edge back into the slip cordon. How? I don't know. Derbyshire 192 for 8, adrift by 141. Two wickets in three balls, Anderson with a hand (literally) in them both.
Kohli is out in the Test match, too. For an even 50. Not sure how England got by before they had Robinson.
Mason Crane update: 22 from 154. The nightwatchman has batted for over three hours on the final day.
Rhodes goes quickly. Is there movement in the Warwickshire match? Surely they're safe already, 207 in front. But Lancashire will still want these wickets. Parky gets their fifth. I can't tell if that was the toppy or the wrong 'un, but it skips on at the left-hander, who drives expecting turn into him. Takes his edge, low to the left of slip, and Luke Wells takes a screamer with one hand.
177 for 5.
Libby and Haynes are chugging along for Worcestershire, Critchley and Dal for Derbyshire, Vince and Crane for Hampshire, Hammond and Dent for Gloucestershire.
Movement though for Warwickshire, where Sam Hain is out caught off the bowling of Liam Livingstone for 48. Rhodes and Lamb the new partnership, 169 for 4 the score, a lead of 199 with six wickets in hand the equation in the third innings.
STEVO FOR ENGLAND.
Mason Crane has called for new gloves. Repeat, new gloves.
Mason Crane, 22 from 132 balls with one boundary. This is for everyone else watching along. Today, we are all Crane Wives.
Thomas Murtagh emails in. "The Lancashire/Warwickshire game has all the tension of the Father Ted Speed episodes."
I'm going to assume those are episodes where Father Ted goes clubbing circa 1997. Sounds quite interesting.
Mason Crane, meanwhile, 18 from 130. I know people are glued to that. It's like we're all expecting a baby. Crane Watch.
Ubelievable streak for Middlesex. Godleman goes first, hooking to deep backward square and caught brilliantly by Andersson sliding in. Gone for 70. He's battled out 156 deliveries. Roland-Jones then nearly gets Critchley, similar shot but for the right-hander, and it falls luckily safe at deep square.
His following over, TRJ has Alex Hughes caught by Robson in the cordon, forcing off the back foot, then Brooke Guest leaves a ball that cuts back in savagely and hits the off stump. TRJ on a hat-trick, but Anuj Dal chops it into the turf.
Derbyshire suddenly 150 for 6, trailing by 183.
Sibley is out! The immovable object has resolved the paradox. Warwickshire 135 for 3, and it happened because Lancashire
GOT PARKY ON.
He bowls Sibley, impressive against a man who plays no shots. But that's a screamer from Parkinson. Around the legs. Floats it outside leg stump, into the rough. Sibley tries to sweep. Hangs his front pad outside leg stump as a line of defence. And it still doesn't help, Parky ripping it back from out there to hit timber. That's stunning bowling.
Warks lead by 179, third innings.
Another Hampshire wicket falls, but it ain't the leg-spinner with nightwatchman tendencies. Nick Gubbins hits a catch back to Matt Fisher for 8, and the home team find themselves 90 for 4, about a million runs behind Yorkshire, and depending more than ever on the Terror of Sydney himself. If Hampshire lovers need more reassurance, Craine is joined by Mr Dependable, James Vince.
Gloucestershire lose another. The chase is in some trouble. James Bracey nicks Tom Taylor behind to Rossington for 4. They're 41 for 2, needing 225 runs to win.
Fell falls. Tom doesn't take advantage of his drop. Instead he splices a hook shot to mid-on from Henry Crocombe. Worcestershire 49 for 2, needing 266 more.
Critchley and Godleman have put on 75 together at Lord's, Derbyshire trailing Middlesex by 196 not.
Which of those drops will ring more loudly through history?
At the same time as Kohli is dropped by Root at The Oval, Tom Fell is dropped by wicketkeeper Oli Carter at New Road. Worcs remain on 48 for 1, trailing Sussex by 267.
Mason Crane 14 from 110 in Hampshire, taking his strike rate dizzyingly into double figures. Stop it.
Ah, bless Ang Gilham, who emails in. "The Worcester live stream's hiding over on YouTube." I did search the club's website without luck.
We're back in action. Up at Manchester, Sibley raises his 50 from a sprightly 156 deliveries. Warwickshire 119 for 2 on the slow grind.