As Dane Vilas swept Liam Dawson over the rope, a great roar sprung from the camping chairs parked around the Aigburth boundary. It was ridiculous, it was beautifully barmy: a slow burner of a run-chase that turned into a dry-throated thriller as Lancashire snatched victory to keep alive hopes of their first Championship title for 10 years.
At 177 for 5, with only 19 runs needed, Lancashire looked to be home and dry, with Hampshire's main strike bowlers Keith Barker and Mohammad Abbas strangely tamed by a pitch that became easier the longer the match went on. So it was to his spinners, his former England spinners, that James Vince turned: Mason Crane and Liam Dawson.
And, like a flick of a switch, Lancashire started to crumble. First Danny Lamb edged to second slip after a sprightly partnership of 26 with Vilas, a third wicket for the already gambolling Crane, bouncing and sparking through his whirligig action. Then Luke Wood, buccaneering hero of Lancashire's first innings, was snaffled by a coiled Weatherly at bat-pad. Surely, though, this was all much too late?
And all this time, as chances went down and the runs built up, and the wickets were ticked off, Hampshire's captain, Vince, had been expressionless at slip. But as Vilas shimmied down to Dawson and spanked him through midwicket for four, to reduce the target to three runs, Vince fell to his knees and put his face in his hands.
But it wasn't over. Two balls later Tom Bailey went through for an unwise quick single and Crane at backward point unleashed a direct hit to run him out for a duck. The No 10 Jack Blatherwick then took a bold run that left him facing a whole over of the inspired Crane.
He lasted three balls, before nervously poking a ball to slip. Hush dropped like a winter frost on Aigburth as the last man, Matt Parkinson, marched out. Spontaneous applause broke out after he survived the remaining two balls of Crane's over, before finally Vilas took a punt at Dawson and rocketed the ball for four.
Parkinson and Vilas hugged on the pitch, before dancing along to the lovely old pavilion balcony where Aigburth sang their glories.
Hampshire, cruelly denied at the last, prepared for the long journey south, and the end of another campaign.
In the words of the magnificent Crane, "Jesus it can be a cruel game sometimes – we were a couple of inches away from winning the Championship and that's tough to take at the minute.
"It really hurts – we said we'd keep fighting to the end and that's what we did and I'm proud of the team and everyone for sticking with it."
To Lancashire, who had bowled out Hampshire quickly in the morning to give themselves a chance of victory, with Tom Bailey finishing with a career best 7 for 37, to Alex Davies who biffed a crucial 44 at the top of the innings in his last Championship appearance for Lancashire, there is a day of waiting. The title is in Warwickshire's hands.
If they can bust together enough runs quickly enough on Friday morning and take 10 Somerset wickets on a dull, flat pitch: the title is theirs. If not, the Lancashire players, belting out Oasis songs as night fell in Liverpool, will have more to celebrate.
Good morning, good morning! Here, for one last time, the County Championship season ( with just a tiny nudge that the blog will make a final appearance for the Bob Willis Trophy next week). What can possibly beat yesterday's events in the Liverpool dusk, that ridiculous loss of nerve, the headache inducing run out, the scrumping of the strike by Jack Blatherwick, the dawning possibility of a Lancs-up of all Lancs-ups But, Dane Vilas saw them home and Lancashire now sit pretty at the top of Division One. Warwickshire know the position: beat Somerset today and Championship is theirs. Bring it on!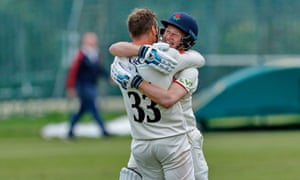 There is one more day of the title race to run and, provided nerves have settled sufficiently, it may be that a good few Lancashire supporters make the trip down the M6 from Aigburth to Edgbaston, take advantage of free entry and lend their voices to the Somerset faithful.
Warwickshire can still snatch the title but will need a near-perfect performance to do so. The Bears will resume on 179 for 1, leading by 157 runs, and must continue the aggression displayed by Rob Yates, Dom Sibley and Will Rhodes on the third evening if their bowlers are to have a sniff of claiming 10 wickets.
Sibley fell before the close, the recently deposed England opener caught at deep point for a 69-ball 50 that featured two of the 11 sixes he has now struck in his first-class career. But Yates was unbeaten on 72 from 119 and in the final 30 minutes Rhodes smoked a 29-ball 42, signing off the day by launching his opposing captain, Tom Abell, over the square leg boundary.
It will be hard going for Warwickshire on a pitch that has yielded 21 wickets in three days and on which Somerset posted 389 for a 22-run lead. Lewis Gregory compiled a disciplined 68 before being trapped lbw by Chris Woakes on the stroke of lunch, with frustration for the hosts then coming in the shape of a 56-run ninth-wicket stand from Jack Leach and Josh Davey.
Leach was overlooked by the England Test team all summer on account of perceived shortcomings with the bat. But here the left-hander delivered a resolute 49 over the course of three hours, an innings pockmarked with some impish uppercuts and a slogged six off his fellow left-arm spinner Danny Briggs. Like at Headingley in 2019, those glasses were cleaned a few times too.
When Davey walked out with Leach after lunch, Somerset were 325 for 8 and Warwickshire had 22 balls in which to claim a ninth wicket for what might have proved a crucial third bowling point had Hampshire prevailed in Liverpool. Instead the pair held firm for 27.1 overs until Briggs, bowling into the sparse footmarks of an otherwise true surface, teased an edge off Leach to slip.
With Davey's two-hour vigil finally ended by Woakes on 16 – a third wicket for the England all-rounder, but at a cost of 100 runs – an early tea was called, presenting Warwickshire's openers with 36 overs in the warm September sunshine to get their innings off to a flying start.
The presence of Sibley may have surprised some but, certainly at this level, the right-hander has more than one gear. Somerset's bowlers did not exactly cover themselves in glory but some of the shots were of the highest quality, not least when Sibley shuffled down to the pitch and whipped Davey over the rope at deep backward square.
Yates, whose three centuries have led the way for Warwickshire this summer, kept the ball along the ground. His nine fours were crisply struck and, with a temperament that belies his 22 years, it's easy to see why England are considering him for the Lions squad that shadows the Ashes this winter. Rhodes, looking to become the first Warwickshire captain to lift the trophy since Jim Troughton in 2012, simply ignited the afterburners before stumps and after walking off spoke of the "excitement" among his players.
Continue this first thing and the fingernails of any Lancastrians who make the trip will get little respite