Riverside: Durham 503-8dec BEAT Glamorgan 97 and 362 by an innings and 42 runs
A stout-hearted second innings by Glamorgan, with valiant innings in particular from Douthwaite and Salter, but the die was cast in the first. Nine wickets in the match for Paul Coughlin,
Lancashire lose another, a138-3, nd this has England at The Oval vibes. With Dane Vilas as Joe Root?
Ah, shucks. Andrew Salter is caught of Coughlin just ten short of his hundred. Glamorgan slip, wobble and slide to 359-8, still 47 short of making Durham bat again.
Jinxing gloves off and on the draining board: were George Balderson, currently 51 not out, (or George Lavelle) to make a century, he would become the first Lancs player born this century to get a hundred. Lancs currently 133-2, need 311 to win.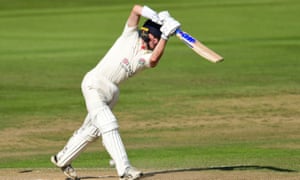 A tasty first twenty minutes round the grounds: a lesser-spotted wicket at Hove. Ali Orr for 18, off 95 balls, Tom Haines meanwhile is 82 not out off 100 balls. Sussex 126-1. A breakthrough thanks to a wicket-maiden for Dane Paterson as Wells falls for 59. Lancs 122-2.
More departures, this time Dave Houghton from Derby, after four years in the role. Derbyshire are currently bottom of Division Three of the Championship.
"It has been a bitterly disappointing season, much of which, including injuries, has been out of Dave's control," said the Derby chairman, Ian Morgan.
"It is the mark of the man that he has taken responsibility for on-field performances. He leaves a squad which contains a number of young talented players who will develop their skills in the coming seasons."
It is the end of the road for Northants head coach David Ripley, who is to step down at the end of the season. Northants have had a tricky time of it: winning promotion to Division One of the County Championship at the end of 2019, but thwarted by Covid and the subsequent reorganisation which means they have never taken up that place.
They currently lie fourth in Division Two, with a bare-knuckle fight on their hands against Surrey today. They finished second from bottom and bottom in the group stages of the one-day and T20 competitions.
Ripley, 55, who has been at Wantage Road since 1982 when he made his debut at 16, took over the coaching job in 20212, and won the T20 Blast twice. He will take another position at the club.

Division one
Trent Bridge: Nottinghamshire 272 and 339-8dec v Lancashire 168 and 115-1. Lancashire need 329 to win
Edgbaston: Warwickshire 116 and 139-2 v Hampshire 89 and 322 Warwicks need 157 to win
Scarborough: Yorkshire 308 BEAT Somerset 134 and 141 by an innings and 33 runs
Division two
Riverside: Durham 503-8dec v Glamorgan 97 and 333-7
Chelmsford: Essex 276 BEAT Gloucestershire 76 and 197 by an innings and 3 runs
The County Ground: Northants 171 and 106-2 v Surrey 252 and 238 Northants need 214 to win
Division three
Derby: Derbyshire 313-8 v Leicestershire 528 all out
Canterbury: Kent 393 BEAT Worcestershire 133 and 204 BY AN INNINGS AND 56 RUNS
Day Three: Hove 103-0: Sussex v Middlesex 676-5
Two games scurried to a conclusion as Essex and Kent celebrated innings victories.
Essex, whose title was lost in the first part of the summer, and boosted by righteous indignation, have dominated both their Division Two games. They half-inched the five Gloucestershire wickets they needed before lunch, Simon Harmer walking off with four.
A "Stevo is God" flag dedicated to Darren Stevens flew over Canterbury as fans celebrated their wicket and run diva. Kent, who went into the Divisional phase without a victory, toppled Worcestershire with ease to chalk up their second win on the trot. Nathan Gilchrist, Grant Stewart and Stevens himself took three wickets apiece.
It was runs galore at Hove, as Sam Robson moved to a double hundred and Robbie White a century. Middlesex's 676 for five declared was their highest ever total, as Sussex's young bowlers toiled away on a picnic table of a pitch. Tom Haines and Ali Orr took Sussex to 103 for nought at stumps.
The other games were a celebration of the rearguard. In the zig-zagging Division one game at Edgbaston, Hampshire set Warwickshire 296 to win after Keith Barker and Brad Wheal shimmied the bat. Rob Yates and Dom Sibley then ground their way to a solid start, before Sibley tried a rogue sweep and was out for 47.
Lancashire, meanwhile, need another 329 runs to beat Nottinghamshire, an unlikely chase emboldened by the good start of George Balderson and Luke Wells who took them to 115 for one.
Maiden centuries for Brooke Guest and Anuj Dal, whose contact lens fell out mid-innings, gave Derbyshire a sniff of survival in their match against Leicestershire, with 65 more needed to avoid the follow-on.
While at the Riverside, Dan Douthwaite, caught for 96 going for a big one, and Andrew Salter, 82 not out, shovelled and nudged 163 for the seventh wicket to hold up Durham's popping of the champagne. Still 73 shy of an innings defeat, it was a day of solid, if theoretical, defiance by Glamorgan.
A last wicket stand of 83 by Amar Virdi and Gus Atkinson helped Surrey set a formidable run-chase. After a couple of early Northamptonshire wickets, Rob Keogh and Emilio Gay played with panache to set the game up for an intriguing final day.
Good morning! The sun beats its late-summer tune as another round of Championship games draws to a close. There are six games still in play:Middlesex and Sussex seems likely to end fatly gorged (and still has another two days to run), while Glamorgan are on borrowed time; but there should be tension galore at The County Ground, where Derbyshire are inching towards the follow-on and safety, and at Edgbaston, Trent Bridge and Northants where run-chases are about to begin.