England are on their way out. Virat Kohli intensely unfolds his jumper, but the wool, mysteriously, doesn't spontaneously combust. It seems Umesh Yadav will take the new ball.
Phew. That was a mini epic. A mild-mannered start in grimy black and white, followed by irrepressible England bowling, followed by success/failure from Kohli, a shambolic cameo from Pant, furious glory from Thakur and a chaotic final chapter. England will be delighted. India less so. Woakes the pick of the bowlers, with 4-55 on his comeback, and three more wickets for Robinson.
Umesh goes for broke, and Bairstow takes a smashing catch in front of Overton's nose.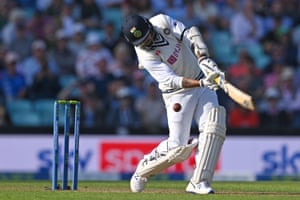 Village cricket all round. Umesh is dropped by Overton overhead at first slip, but a quick-thinking Burns runs the advancing Bumrah out with a direct hit. He departs, without facing a ball.
61st over: India 190-8 (Umesh 10, Bumrah 0) Woakes gets his man, at last.
A standing ovation for Thakur for providing the most divine fun of the day. A timely filip for India. The lbw wasn't given originally, but hit the back pad and the review reveals that the ball would have been hitting leg stump.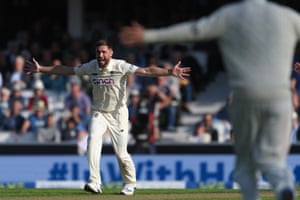 60th over: India 185-7 (Umesh 9, Thakur 53) Carnage. The fifty partnership races past the line as Thakur has a swing and smacks the ball to the long off boundary. He reaches fifty with a six off a short ball from Robinson, aiming for the Shard . The Indian balcony has something to grin for, and they do. Thakur now has the fastest Test fifty on this ground (31 balls), beating Ian Botham against New Zealand in 1986!
59th over: India 172-7 (Umesh 6, Thakur 31) A six! A palpable six! Thakur slams a full ball over long-off. Woakes is getting the treatment. An outside edge flies over second slip for four more. A festival feeling starts to build.

58th over: India 160-7 (Umesh 6, Thakur 31) Did someone put Bairstow's shirt in a hot wash? Anyway, Overton has six balls to have a go at Umesh Yadav. England think they might have got him to an inside edge third ball, but no-one is confident enough to review. Their reluctance was correct. In relief, Umesh sends a wonky drive wide of mid-on for four.
57th over: India 154-7 (Umesh 0, Thakur 31) Chin chin! Thakur pulls Woakes through mid-wicket for a tasty four . Root, at slip, folds his arms. The sun is shining. And now a ridiculously debonair flick in the air through mid-wicket for another boundary. Thakur is having fun.
Very good:
56th over: India 146-7 (Umesh 0, Thakur 23) Thakur disdainfully yee-hahs Overton over mid-off for six. Pant-esque. If this tail can thwack and inch India to 200, we have more of a game on our hands.
The answers, to Tim's quiz question:
55th over: India 139-7 (Umesh 0, Thakur 16) Thakur shows Pant the way. He has apparently been working on his batting and it shows. The first four shimmies over square leg for four. The second is a straight drive that threatens to guillotine the umpire's toes. The third an off drive chased down by Anderson, who pull the ball back just before the rope. Smashin battin.
"Tanya," says John Starbuck.
" It isn't always about who is the best Indian no. 5, it's who's the best at fitting into the team. It could be inter-personal, it could be jealousy, it could be skill, it could be nerve and patience, but if your face doesn't fit for some reason you'll get left out a lot."
Wise words. In cricket, John, as in life.
54th over: India 128-7 (Umesh 0, Thakur 5) My bones tell me this tail won't last long. Yadav survives his first three balls from Overton.
53rd over: India 128-7 (Umesh 0, Thakur 5) Pant watches Woakes. Carefully. Then comes the edge – the fifth stump line the commentators have been dreaming of, and that haunts Pant's nightmares – but Overton puts it down, lolloping one handedly from third slip in front of second. A visibly fed up Woakes has to watch the second catch put down off his bowling today. This England slip cordon are not working like clockwork. But, it turns out, it doesn't matter. Pant has a wild swing and, once more, it doesn't come off.
Dropped in the slips in the same over, Pant goes for the big one and merely sends the ball skywards and into the hands of Moeen at deep mid-off.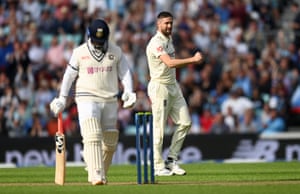 52nd over: India 127-6 (Pant 9, Thakur 4) Settle in my friends, this is going to be a looong session. We watch Pant adjusting his gloves on a bench outside the pavilion, and then bounce out to the middle. Overton has the ball. Pant greets his second with a dancing slap through cover for four. Pleasingly wild. He ignores the rest, till the last ball where he steals a single.
Hello Column Fordham!
"India are in all sorts….
"As to Tim De Lisle's quiz question, I'm assuming that the two other most successful test bowlers in the current England team are Moeen Ali and, although I can't quite believe it, Joe Root's occasional off-spin. Can't be true, can it?"
The dog demanding some tennis ball throws prevented me picking up what sounded a very interesting point from the excellent Mark Butcher about this being the perfect conditions for the bowlers England have picked. But Nasser spoke excellently about India's batting line-up. Is there really not a better No.5 in the whole of India than Jadeja?
51st over: India 122-6 (Pant 4, Thakur 4) With tea in sight, Robinson has one more before resting his big boots. Pant and Thakur play for the interval, sensible this and thats to see them through. And that is tea! Three wickets in the session, 68 runs scored. Advantage, undoubtedly, England. Time to put the kettle on, back shortly.
50th over: India 119-6 (Pant 3, Thakur 2) A suave drive for four by Rahane, a hasty Pant pull which buys him nothing. A thoroughly boring single into the covers. And then the wicket: a quite brilliant catch. I think Pant will now be told to hit the stratosphere.
"Is this England's most well-wished test team?" asks Tom vdGucht. " It seems to be especially full of likeable players England supporters have become emotionally invested in with the hope they'll do well and finally nail down a regular place in a settled position? Ali, Woakes, Bairstow, Hameed… They all seem to have been shuffled around despite being consistent professionals and likeable characters whilst suffering the slings and arrows of form loss, injury, selectoral whims etc. Imagine if they'd got Leach and Wood in there too."
"Perhaps a team containing Malcolm, Hick and Ramps in the 90's would have attracted a similar sense of hope that they'd finally make it."
This is so true. The most likeable team of my lifetime I think. Though my heart still bleeds for Ramps.
A beautiful low two handed catch from Moeen at third slip, swooping to rescue a sparrow from the wheels of a bus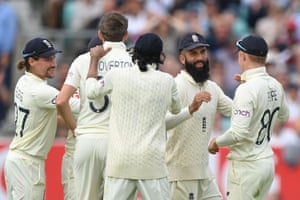 It looks clean but the umpires are checking

49th over: India 111-5 (Pant 2, Rahane 9) A pull -not without risk- off Robinson gives Rahane succour. Then Pant has runs, a nudge into the leg side for two. Restraint oozes out of every pore.
48th over: India 108-5 (Pant 0, Rahane 8) Overton returns from the pavilion end. A needless run-out averted, when Hameed's throw doesn't hit. Rahane stop-started, ball watching I think. The force is not strong between these two.
Can anyone help Tim with his query?
47th over: India 107-5 (Pant 0, Rahane 7) Robinson stretches into his run-up; long legs reluctantly doing as commanded. Rahane executes an inelegant one-handed poke into the legside for a single, which brings us, once more, Robinson v Pant. Pant calmly plays him defensively, and ignores the next.
Some Woakes worship from Guy Hornsby. A common emotion for a very likeable chap.
46th over: India 106-5 (Pant 0, Rahane 6) A run! Rahane trots through with a workmanlike single into the leg side. I heard someone – shamefully I can't remember who – suggest that Pant plays himself in slowly to reach ten before searching for the moon. Can he be persuaded at The Oval, host of his first Test hundred in 2018?
45th over: India 105-5 (Pant 0, Rahane 5) Pant takes two shuffle n change steps down the wicket, has a huge swing at Robinson, and misses, much to the bowler's amusement. Another maiden. Pant, you imagine, isn't going to stand for this.
44th over: India 105-5 (Pant 0, Rahane 5) Rahane survives an absolute beauty from Anderson, that zips of the seam with vigour, and England notch up another maiden.
43rd over: India 105-5 (Pant 0, Rahane 5) The boy Robinson does it again! Kohli couldn't capitalise on being dropped: he just can't get past 50 at the moment. An uncertainty hovers around which balls to play and which to leave. Enter Pant – whose Test average, despite an undistinguished tour, is still above 40.
"Afternoon Tanya." Hello Brian Withington!
"Looking for a Kohli century at the Oval? Currently finding it difficult to tear my attention away from Autumn Crane Watch at Southampton, where nightwatchman Mason is currently 22 not out off 154 balls and methodically working his way through his limited supply of batting gloves, to the mounting consternation of Yorkshire."
Oh dear, Yorkshire need that win. Follow Hampshire v Yorkshire and more with Geoff here:
The big one! He plays across a short ball, gets in a tangle, shivers an inside edge and it is an easy catch for Bairstow.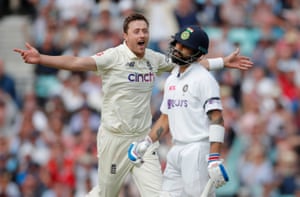 42nd over: India 105-4 (Kohli 50, Rahane 5) The Barmy Army's trumpeter blasts away- The Oval is packed to the gunwales. We get a glimpse of Anderson's leg, and there seems to be a blood stain on his right knee, which must be from when he fell over at the end of his previous over. Rahane makes an elaborate leave and succeeds only in nearly playing on to his own stumps. Another maiden.
41st over: India 105-4 (Kohli 50, Rahane 5) Robinson's third passes the edge of Kohli's bat and is caught by a beardless Bairstow shimmying to his left. Another Virat Kohli might have whistled through his teeth. Kohli's fifty was off 85 balls, with eight fours. And that's a maiden.
40th over: India 105-4 (Kohli 50, Rahane 5) Anderson resumes after drinks, that familiar figure darting in. Three slips, as Kohli leaves the first two balls. The fourth is angled past third slip to the boundary and a quick single brings the fifty. He raises his bat briefly as if to say: there's more to come.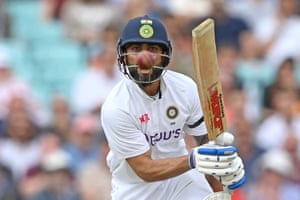 Thanks Rob, awesome as ever. I'm here for the Kohli century, not sure about the rest of you?
39th over: India 100-4 (Kohli 45, Rahane 5) Rahane forces a square drive for two off Robinson, the first really attacking shot of his innings. The previous ball bounced just over the stumps, with Rahane offering no stroke. Let's give him the benefit of the doubt and say he left it on length. That's drinks, and time for me to hand over to Tanya Aldred for the rest of the day. You can email her here or tweet @tjaldred. Bye!
38th over: India 96-4 (Kohli 45, Rahane 1) Exquisite stuff from Kohli, who times an Anderson outswinger through extra cover for four more. England will be worried that he is starting to write his own script, and there's a nascent whiff of Steve Waugh at Old Trafford in 1997 about his innings.
37th over: India 92-4 (Kohli 41, Rahane 1) So much for an Ollie Robinson injury. He's back in the attack, with Kohli in his sights, but his first over is on the loose side. The third ball goes for four leg-byes and the next is laced through extra cover for four by Kohli. It hasn't been flawless, it never will be in these conditions, but for the most part Kohli has played brilliantly.
36th over: India 83-4 (Kohli 36, Rahane 1) Anderson replaces Woakes. His third ball is timed sweetly through point for three by Kohli, who is starting to look a little ominous. Rahane is beaten by the last ball of the over.
"Woakes has a lower career bowling average (22.5) in England than Anderson (23.9)," says Daniel Howell. "Woakes started playing Tests in August 2013. Since when Anderson is averaging 20.1 in England. Woakes is very good. Anderson is incredible…"
While nobody would deny Anderson is the better bowler, I'm not sure that's a fair comparison. Anderson was the finished article by August 2013, whereas Woakes was starting out. It takes a while to get used to playing at Test level. I'd have to check it to be sure, but after his first three Tests at home I'm pretty sure Woakes was averaging 129.50 with a strike rate of exactly 222.
35th over: India 80-4 (Kohli 33, Rahane 1) Overton bowls his ninth over in a row, which suggests Robinson might have an injury. If England are down to three seamers, even temporarily, they'll need Overton to do the donkey work. Another quiet over, one run from it.
"Per Felix Wood's question (29th over), I've had a bit of a google, and it seems Root is indeed a very good slip fielder – or at least good by the standards of the England team," says Hugo Spindler. "Since 2015, he has a catch success rate of 82% in the slips, while England as a whole (since 2019) have a rate of 76%. Slightly different timeframes, but an interesting and marked difference nonetheless!"