6th over: New Zealand 28-0 (Bates 19, Down 5) A tighter over from Farrant, as a crowd in shirt sleeves at lovely New Road watch on approvingly.
5th over: New Zealand 25-0 (Bates 19, Down 4) An expensive over as Bates nibbles two boundaries, both off her toes as Sciver drifts legside. The runs flowing in a way that they didn't at the beginning of the innings in the last match.
4th over: New Zealand 14-0 (Bates 10, Down 4) The clouds have drifted in since the first innings, which should help the England bowlers. Farrant approaches, elbows jutting, accurate but New Zealand skiffle away four from the over.
3rd over: New Zealand 10-0 (Bates 7, Down 3) Sciver again, as ever putting every shred of energy into her delivery. A rather hapless moment of fielding as the ball skims past the diving Tammy Beaumont and then through Sophia Dunkley as Bates picks up two.
2nd over: New Zealand 7-0 (Bates 5, Down 2) Tash Farrant has the ball from the New Road end. A slight figure, swinging the ball in, hair scraped back, she dries her hands on the dirt by the non-striker's end. Down picks up a single in the leg side, but otherwise very tidy.
1st over: New Zealand 6-0 (Bates 5, Down 1) Sciver opens up, and a grand square drive by Suzie Bates gets the innings starting with a bang.
Nat Sciver has the ball, and we're ready to roll…
An umpiring change for the next innings:
Thanks Geoff, excellent as ever. This is an intriguing chase for New Zealand. Will they be buoyed by keeping England to less than 200, or frustrated by that sprightly, record-breaking last-wicket stand? Let me know your thoughts at tanya.aldred.freelance@theguardian.com, I'm going to quickly grab a post-prandial coffee.
Other things to note: Leigh Kasperek now has 139 wickets for New Zealand across all formats, moving her into second spot all time for the country behind Devine.
Hannah Rowe took 3 for 41 in a very useful performance.
And Danni Wyatt… dropped from the side recently after a handful of low scores opening the batting, but comes back in down the order here and makes 63 not out. This match would be gone if not for her judicious use of defence and attack. It's at least a good opening statement as she makes her case.
Ok, that's it for me. The players are having their break, and on the other side of that awaits Tanya Aldred.
Now to the chase. Let's be real here, New Zealand's batting does not convince. The Big Three are Devine, Bates and Satterthwaite, but all are late in their career and can't be expected to deliver every time they play. If they don't, others don't tend to. Lauren Down, Brooke Halliday and Maddy Green round out the top six, all with threadbare records for players in those positions. Martin can score quickly at seven but doesn't tend to rack up big scores in doing so. Rowe and Kerr can bat down the order. But overall, it's a patchwork XI.
So, this is a decent total for England. They can put the pressure on, and if they nab a couple early they would be favourites to win. On the flipside, it's a chance for the New Zealanders to give themselves some confidence with a trouble-free chase. In this world, all things are possible.
What do you make of that? NZ had England at 146 for 9, then let them add 53 towards the end. So, bowling them out for 197 is a good result for the Kiwis, but they'll be a bit deflated not to have finished it off. It's really a question of who takes more cheer into the second part of this match.
Didn't need to do that, Farrant. The return of spin sees her try to smack one over mid-on with the field up. But there's no margin for error at nine wickets down, and instead she's left Wyatt not out and near seven overs of batting unused.
Kasperek ends with 3 for 31 from 7.3 overs.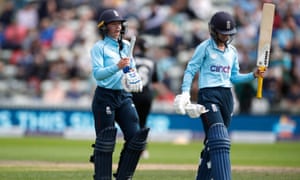 43rd over: England 196-9 (Wyatt 62, Farrant 22) Jess Kerr has two overs left, and Devine goes to her opening bowler now. Must stop this partnership. New Zealand have a pretty fragile batting order outside their big names, so even chasing scores around 150 is by no means a given against bowling of England's quality.
Kerr floats up her slower ball, a seamer genuinely putting flight on it, and it creeps under Wyatt's bat. But by the third single of the over, they've raised a 50 partnership.
42nd over: England 193-9 (Wyatt 60, Farrant 21) Wyatt cuts a couple, then a single. The partnership is 45, a record for the tenth wicket for England. From 40 balls, too. Farrant adds to it by pulling Tahuhu over midwicket for two more, then glances one just short of Satterthwaite at leg gully.
41st over: England 188-9 (Wyatt 57, Farrant 19) Hannah Rowe's nemesis today: Danielle Wyatt! Reaches her fifty by skipping down and driving inside-out over cover, her pet shot and struck just right.
Two balls later, down again and this time the ball's a bit straighter, and she's right to the pitch of it. So she hits straighter, and stronger, and longer. Six over mid off. Wyatt has done a vital job for England today. Then Farrant ices the over with an outside edge for four. Katey Martin might have got half a glove on that, diving to her left, but can't snare it.
Rowe went for 12 from her first six overs, and 15 from this one over.

40th over: England 173-9 (Wyatt 46, Farrant 15) Tahuhu makes use of an over at Farrant, keeping her on strike for most of it. At the cost of two singles. Hits Farrant on the ankle with the final ball, but it was delivered around the wicket and was going down leg.
39th over: England 171-9 (Wyatt 45, Farrant 14) Rowe gets back to her economical ways, at least until Green tips a catch over the bar at cover point. Farrant's drive has some heat on it but Green doesn't pick up the trajectory soon enough. She goes with one hand when she could have used two, and barely gets a touch to it. Two runs result. Green drops deep for the final ball, NZ happy to keep Wyatt off strike, and Farrant obliges with a square drive.
38th over: England 166-9 (Wyatt 45, Farrant 11) Tell ya what, Farrant is looking pretty good. Harvests a couple of singles from Tahuhu without fuss. Plenty of time left to bat. Any sedate sort of partnership can take this score past 200.
37th over: England 163-9 (Wyatt 44, Farrant 9) Oof. Wyatt adds some mess to Rowe's very tidy figures. 6.1 overs, 3 for 12 is what Rowe has at one point. Wyatt adds another 50% tax to those runs by lofting Rowe straight back over her head for six. First clearance for England today. Smacks through cover to follow but only gets one. Farrant keeps strike with a leg-stump prod.
36th over: England 154-9 (Wyatt 37, Farrant 8) Tash Farrant can bat, the left-hander at No11 for England. Gets width from Kasperek around the wicket and drives it through cover for four. Then a full toss, swept off the top edge but flat behind square leg for another.
England on the brink now. A second edge does for Cross. She reaches out to a wide one from Kasperek, but there's a bit of bottom hand in that shot that directs the bat across the line. Almost a leading edge rather than an outside one, to backward point.
35th over: England 146-8 (Wyatt 37, Cross 1) It was second time lucky for Rowe with the short ball, having bowled very short and wide to Wyatt who ran across and lashed the uppercut over point, but not by much. Rowe's next short one is on line, and produces the wicket. Cross edges a single to get going.
Another one that stops in the pitch. Rowe bangs in a short ball while having midwicket up in the ring. That was the challenge, see if you can go over. The same as having mid-off up in the circle for Wyatt. Ecclestone takes up the gauntlet but loses the duel. Easy catch from a cloughed shot.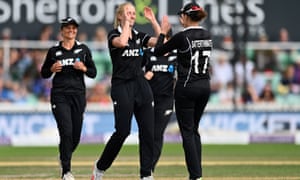 34th over: England 144-7 (Wyatt 36, Ecclestone 4) Two near things in that Kasperek over. First Ecclestone chips it up to bounce just in front of cover. Then Wyatt tries to flat-bat over mid off, and it hangs above Devine's head before carrying her and eluding the attempted catch.
33rd over: England 142-7 (Wyatt 35, Ecclestone 3) Jess Kerr looking to turn the screws. Wyatt is England's key now, but just wants to see out Kerr. Blocks a couple, steps into a drive but it's stopped at cover. But to end the over, Wyatt gets the width that she craves, and threads it between backward point and short third for four.
32nd over: England 138-7 (Wyatt 31, Ecclestone 3) Sophie Ecclestone gets away immediately, a feather of bat on a ball down the leg side, glancing for three.
The seventh wicket falls in anticlimactic style. Maybe that was the knuckle ball from Kasperek? It floats down at Dean, who played a big drive and misses. But not entirely. A very low-key chat between the Kiwis ends up in a player review, and the soundwave technology picks up a slight inside edge. Katey Martin with a good take.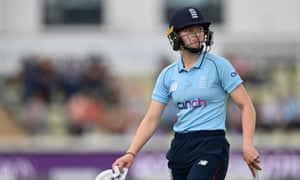 31st over: England 134-6 (Wyatt 30, Dean 8) A more circumspect approach from Wyatt to Satterthwaite, blocking a couple away. Three Dean runs from the over.
30th over: England 131-6 (Wyatt 30, Dean 5) The new batter Dean eases her way into her innings, taking a late single from Kasperek with a cut.
29th over: England 129-6 (Wyatt 29, Dean 4) Wyatt decides to take on Satterthwaite after the run out, a big lofted sweep shot for four. Then another for two.
28th over: England 122-6 (Wyatt 22, Dean 4) Charlie Dean gets a full toss from Kasperek to get off the mark with four. The replay also suggests that Wyatt had wandered out of her crease when the bails were broken, so she should have been the one dismissed… but another replay says her back foot was just in. Sue Redfern in the third ump box triumphs again.
That's comedy stuff. Wyatt comes down the track and does attack Kasperek this time, sweeping hard to deep square. Turns for a second run, then bails out of it. I don't know what the calling was like, but Wyatt is a good third of the way down when she puts the brakes on and turns back. LWH keeps running, straightlining for the non-striker's end. If Wyatt had kept going, she would have made her ground probably… and then the throw goes to the bowler's end anyway. So all I can figure is that Wyatt panicked and turned back, but in doing so there was no possible outcome but burning your partner.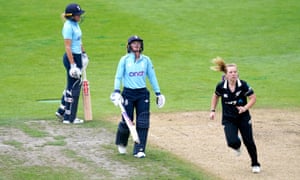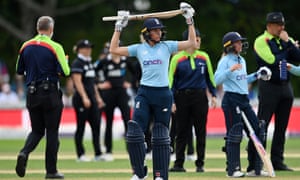 27th over: England 116-5 (Winfield-Hill 39, Wyatt 21) NZ go with spin from both ends, Satterthwaite on, and it keeps Wyatt busy outside off stump: a scoop, an edge to deep third, then a nick into the keeper's gloves that bounces out.
26th over: England 109-5 (Winfield-Hill 37, Wyatt 15) Caught in two minds, England. Summed up by Wyatt charging down the pitch at Kasperek, then defending the off-spinner away. Only two singles from the over.
25th over: England 107-5 (Winfield-Hill 37, Wyatt 15) Winfield-Hill is just not game to try anything with Kerr. The bowler keeps hitting this line, right-arm over from quite wide on the crease but bending in at the stumps, and it unnerves the batter enough to make her defend, defend, defend. Scoreless over! Kerr 0 for 24 from seven.
24th over: England 107-5 (Winfield-Hill 37, Wyatt 15) Tahuhu gets milked a bit more easily, five singles from her over. Reckon that's the first one today where strike rotation has come easily. A few high-scoring overs with boundaries but that's different.