3rd over: Pakistan 29-0 (Mohammad Rizwan 19, Babar Azam 9) Rashid comes off straight away, to be replaced by Tom Curran. Babar Azam, delighted not to see his nemesis Saqib Mahmood, plays an imperious pull for four and then wiggles his wrists to make a leg glance go for two. Curran does manage to induce a false shot from Babar, a leading edge, but it just lollops into no-man's-land. England badly need wickets, already.
2nd over: Pakistan 19-0 (Mohammad Rizwan 17, Babar Azam 1) Well, this is a surprise: the other new-ball bowler is Chris Jordan, whose skills are mostly reserved for the other end of the innings. And it doesn't go well, as he gets flicked for six by Rizwan, who then squirts one past the keeper for four. Rizwan's average in this format in 2021 is over a hundred. Ridiculous but true.
1st over: Pakistan 7-0 (Mohammad Rizwan 6, Babar Azam 1) It's Adil Rashid, the senior of England's two and a half leg-spinners, though he mostly bowls googlies these days. He manages two dots to Rizwan, who then decides that's enough of that and goes big with a four over long-on. Babar, not to be rushed, waits for the ball and clips for a single. From his general demeanour, you would assume he was an English gent in 1934, spending his summer holidays playing for Sussex.
England started and finished badly, but in between they were sublime. Jos Buttler, back from another enforced absence, made a silky 59. Moeen Ali joined him with an innings of 36 spun out of something even finer than silk, and then Liam Livingstone came along and blasted his way to 38 like a coal-miner at a cocktail party. Pakistan have the momentum from the last few overs, but England have 200 on the board, so Babar Azam may not be able to afford the measured start he prefers. A lot will hinge on England's battery of slow bowlers. See you in a few minutes.
20th over: England 200 all out (Mahmood 3) Matt Parkinson manages one fine shot, a waft over backward point for four, and then Shaheen finds a yorker to finish things off.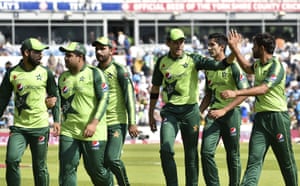 19th over: England 193-9 (Mahmood 1, Parkinson 1) Haris Rauf is on a hat-trick after those two wickets, but Matt Parkinson is equal to the challenge, pushing into the covers for a single. Still, Pakistan have bounced back strongly here.
Two in two! Adil Rashid, usually such a handy batter, opts to stand right outside off and therefore gets bowled, middle stump.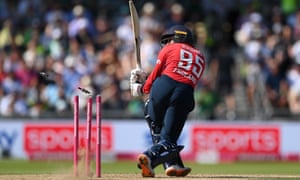 Another full toss, and this time Jordan picks out the man at deep midwicket. He did well enough, but England are paying a price for their long tail.
18th over: England 190-7 (Jordan 14, Rashid 1) Before the wicket, Curran had just managed to find the boundary, whipping Hasnain away to deep square. After it, Chris Jordan keeps the runs flowing with a glide for two and a wallop for four, followed by a couple of singles. Hasnain finishes with 3 for 51 off his four overs. Seven fours, one six, and only four dots: the kid is a crowd-pleaser.
A lofted slice to deep cover, and Hasnain has yet another wicket.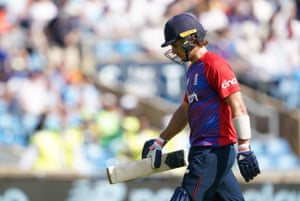 17th over: England 178-6 (T Curran 5, Jordan 7) Back comes Shaheen Shah Afridi: not the sight you want to see when you're a tail-ender, but at least he hasn't got any left-handers to torment. Curran, itching to atone for his blunder, manages a few shovels into the leg side and sharpens up his running. Then Jordan, spotting a full toss, helps it round the corner for six. Game on again.
16th over: England 165-6 (T Curran 1, Jordan 0) That over had begun so well. It was all down to Livingstone and he was fine with that, smiting a six and a four off Haris Rauf. Then he tried a ramp which went sideways, leading Curran to call for the run that proved fatal. And now the bowlers have to fiddle their way to 200.
Nooooo! The one thing you cannot do at this stage of the game is run out the main man, and Tom Curran has done it. He calls Livingstone for a very tight single, Livingstone dives, he almost gets a reprieve as the bowler dislodges one bail by accident with his hip, but the other one is removed in the proper manner, and England's new star has to go.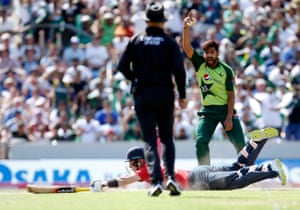 15th over: England 154-5 (Livingstone 27, T Curran 1) So we're down to the tail, with all due respect to the feisty Tom Curran, who's not quite a No 7, unlike his little brother. He gets off the mark with a purposeful single, and Andy Zaltzman pops up to inform us that this is the highest-scoring T20 series of all time.
Another one! Bairstow goes big, looking for a six over long-off, but he doesn't quite get hold of it and that's a simple catch for Fakhar Zaman.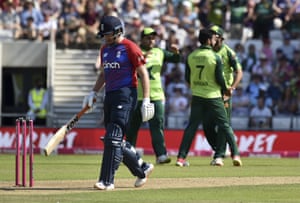 14th over: England 150-4 (Livingstone 26, Bairstow 11) In comes Jonny Bairstow, mysteriously demoted to No 6: maybe it's a ploy to give him Something To Prove. His job at the moment is just to hand the strike back to Liam Livingstone, the new blaster on the block. But then Jonny sees something wide and helps himself to four through gully, followed by a beamer that he deftly flips for four more. The free hit is mistimed to midwicket, but still brings two.
Gone! Buttler, like Moeen, can't get his lofted drive over mid-off, and Hasnain strikes again. That's the end of a fabulous innings.
13th over: England 136-3 (Buttler 59, Livingstone 24) Livingstone is at it again, walloping Imad over long-off for six and out into the road. Imad strikes back with a couple of dots but then there's a half-tracker which Buttler flays over extra-cover for six more. "Can't tell you how hard that shot is to play," says Jimmy Anderson. Have you tried, Jimmy?
The partnership is fifty already – 51 off 5.2 overs.
12th over: England 121-3 (Buttler 51, Livingstone 16) Buttler clips Shadab for a single and that's his fifty. It's taken 33 balls, with seven fours and a six, and it's been exemplary: a real acting captain's innings, holding the show together while still giving great entertainment. Livingstone belts Shadab down the ground for four, which prompts a series of wides and near-wides outside off, and England are flowing again.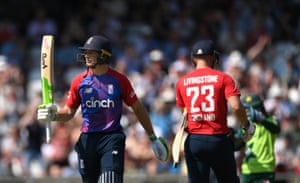 11th over: England 110-3 (Buttler 49, Livingstone 11) Back comes Imad Wasim, the first contender for Player of the Match, and he adds to his credentials by going for only four off the over.
Here's Tom van der Gucht, pondering an idol with feet of clay. "I used to love Vaughan. As a batsman in the 2002-3 Ashes when he stood tall in his moccasins. As the England captain throughout the glorious unbeaten summer of 2004 and the 2005 Ashes. Then, in the early days of his commentary, he seemed pithy, witty, knowledgeable, prescient. Yet he seems to recently have begun transforming into some sort of no-nonsense 'I say it how I see it…' so-called common-sense merchant who loves nothing more than firing off bombs about how ridiculous things are and only he really sees it – he's like a 21st-century Trueman or a cricketing version of Toby Young."
10th over: England 105-3 (Buttler 47, Livingstone 8) Now Hasnain does come off, to be replaced by Haris Rauf. He drops short on leg stump, so Buttler simply swivels for four. And then Livingstone shows Leeds his holiday snaps from Nottingham, facing a 91mph delivery and heaving it over long-on for six. So at the halfway stage, England are still ahead in terms of runs, but they can't afford to lose more than one wicket any time soon.
9th over: England 90-3 (Buttler 38, Livingstone 2) Shadab Khan, seizing the moment, sneaks in an over for just three. The cricket is riveting – and the fans decide that this is the time to do the Mexican wave. A case of the unwisdom of crowds.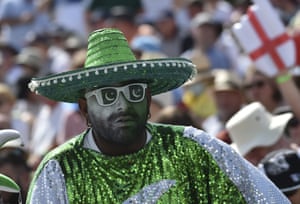 8th over: England 87-3 (Buttler 34, Livingstone 1) That was a great moment for Hasnain and for Babar Azam, who went on the defensive very quickly here and found the move backfiring badly as Moeen and Buttler made hay. But Babar then showed some mettle, by keeping Hasnain on after his fiasco of a first over, and it paid off with a vital wicket. Moeen's innings was delicious, but it was just a cameo.
Noooo! Mo!! Let's chip again, he thinks, and he can't get it over Babar at mid-off. Pakistan needed that.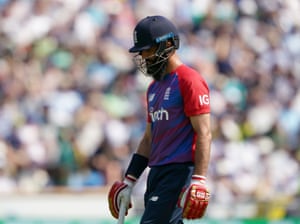 7th over: England 81-2 (Buttler 33, Moeen 35) Time for Shadab Khan, the first of the many wrist-spinners on the menu today. He starts solidly, conceding only singles, but then Moeen gets going again with a pull for four and a slog-sweep for six. Mo has 35 off 14 balls and the partnership has raced to 63.
6th over: England 66-2 (Buttler 29, Moeen 24) It's a double change as Shaheen gives way to Haris Rauf, with his slingy tape-ball action. He too gets a warm welcome from Moeen, who cuts the first ball with a vengeance, back-foot-drives the second through mid-off, shovels another one past midwicket, and eases a fourth past backward point. So the PowerPlay ends with England on fire,, and those two early wickets are already a distant memory. Buttler and Moeen in full flow: Headingley's first T20i crowd don't know how lucky they are.
5th over: England 47-2 (Buttler 28, Moeen 7) Just when Imad was threatening to take out the whole top order, he gets taken off. It's Mohammad Hasnain, from the great tradition of Pakistan bowlers who look about 12. Moeen greets him with a lofted square drive, lovely, languid, and only just evading the man at backward point. Buttler greets Hasnain with a ramp for six! And then a glide through gully for four, and another one, squarer. That's 19 off the over from poor young Hasnain. Buttler has 28 off just 15 balls and he's only taken one real risk, with that ramp.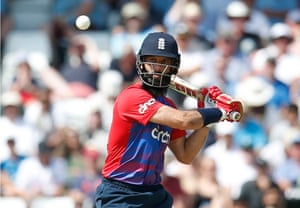 4th over: England 28-2 (Buttler 14, Moeen 2) Michael Vaughan is saying England should "just bat here, even if it means being 40 at the end of the PowerPlay," and Jimmy Anderson is murmuring agreement. Buttler plays another lovely drive for four, past backward point this time, but Shaheen cramps him for room after that. It's down to Buttler, Bairstow and Livingstone to get England to something resembling respectability here. Babar Azam will be thinking, three more wickets and we're into the tail.
3rd over: England 23-2 (Buttler 10, Moeen 1) In comes not Jonny Bairstow, who's used to the PowerPlay, but Moeen Ali, England's half-forgotten man. He almost perishes first ball, chipping Imad rather too close to a caught-and-bowled, but he gets away with it, takes a single, and then watches Buttler thread another drive through the off side. Imad has been expensive but effective, with 2 for 17 off his two overs.
Malan goes for the slog-sweep and it's another big fat top edge, to Azam Khan at short third man. England are in trouble.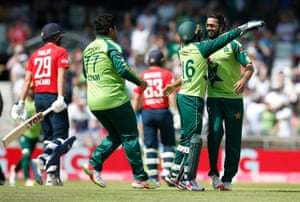 2nd over: England 17-1 (Buttler 5, Malan 1) It's Shaheen Shah Afridi to bowl to Dawid Malan, who has been all or nothing this summer – he either gets 68-plus or single figures. Shaheen, who eats left-handers for breakfast, beats Malan, who then prods into the leg side to get off the mark. Buttler sees that and decides to get going in style, with a cover drive, opening the face to find the gap – which is enough to sweep away the only slip.
1st over: England 11-1 (Buttler 0, Malan 0) The first ball is a dot, the second is a … six! Roy spots a half-tracker and carts it over midwicket. When Imad pitches it up, Roy is waiting with a sweep and that's four more. Then there's a wide, and Imad seems to be losing the plot – only to slow himself down by 10mph and lure Roy to his doom. It was all a plan! Two dots to Buttler round off an over that had a little bit of everything.
Big heave, top edge, simple catch at backward point.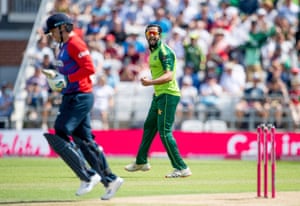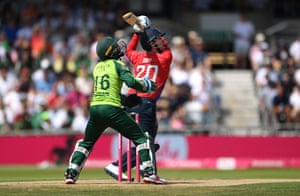 Play! It's going to be Imad Wasim with his slow-left-arm darts.
"At Trent Bridge," says Zain Malik on Twitter, "it was probably the toss that made the most significant impact. The game could have ended on a different note had the English skipper elected to bat first." You may well be right, though I wouldn't want to be the person trying to convince Eoin Morgan about that.
Not wanting to send anyone away from the OBO, but this match is live on BBC1 – so do grab the nearest impressionable young person and give them a taste of it.
"Eoin Morgan has solved the problem of the congestion around England's batting places," says Simon Wilde of The Sunday Times on Twitter, "by dropping himself for today's second T20." He has also made it clear how he feels about this series: he's not too bothered about losing it.
With only four T20 games left until the World Cup (all against Pakistan), Morgan would rather try different combinations than go all out for victory. This is still a strong England side, but the decision to field three and a half spinners is all about planning for the UAE.
England 1 Jason Roy, 2 Jos Buttler (capt, wkt), 3 Dawid Malan, 4 Jonny Bairstow, 5 Liam Livingstone, 6 Moeen Ali, 7 Tom Curran, 8 Chris Jordan, 9 Adil Rashid, 10 Saqib Mahmood, 11 Matt Parkinson.
Pakistan 1 Babar Azam (capt), 2 Mohammad Rizwan (wkt), 3 Fakhar Zaman, 4 Sohaib Maqsood, 5 Mohammad Hafeez, 6 Azam Khan, 7 Shadab Khan, 8 Imad Wasim, 9 Haris Rauf, 10 Shaheen Shah Afridi, 11 Mohammad Hasnain.
Pakistan opt not to change a winning team. England bring back Adil Rashid and Chris Jordan as well as Buttler, as Lewis Gregory and David Willey step down, along with Morgan. So England have two leg-spinners, Rashid and Matt Parkinson, plus Liam Livingstone's slow all-sorts and Moeen Ali's under-used off-breaks. They also have an uncharacteristically long tail, with Jordan and Tom Curran at Nos 7 and 8. Hmmm.
Eoin Morgan hands over to Jos Buttler, who returns from injury and becomes England's third captain in three matches.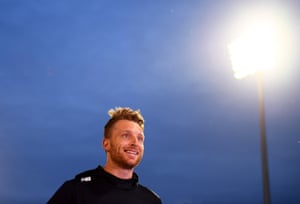 Babar Azam is looking forward to it: win the toss, "win the match and win the series".
Afternoon everyone and welcome to the second T20, which England rather badly need to win. Typical, isn't it? They field a bunch of third-stringers and win 3-0, then most of the big guns come back and they go 1-0 down.
It all makes sense if you look at the other element in the picture: the opposition. Pakistan are supposed to be more up-and-down than most sports teams, but on this short tour they have traced the steadiest of trajectories. In the first ODI, caught cold after playing no warm-ups, they made only 141. In the second, they managed 195. In the third, they almost put those two totals together with a sparkling 331 – only to be let down by their fielding and outshone by James Vince, finally having his day in the sun. Then, in the first T20, Pakistan's batsmen improved again, lifting their scoring rate from 6.62 runs per over to 11.60. It was the fastest they had ever gone, in any form of cricket, over an innings lasting longer than one ball. Up, up and away.
That rollicking run rate had a lot to do with the boundaries at Trent Bridge, which had been brought in so far that you wondered if the groundstaff had been asked to prepare for a children's game. Today the teams are at Headingley in Leeds. They don't have silly boundaries for T20 internationals there, do they? Hard to say – this is the first one Headingley has ever hosted. Astonishing but true. There have been 77 T20 internationals in England since 2005, and not one of them in the county that sees itself as t'finest in t'bloody land.
Almost as unexpectedly, the weather forecast is solid sunshine. We could well be in for another run-fest. Play starts at 2.30pm UK time, so I'll be back around 2.05 with the toss and teams.