That's it from me! Time for cold flannel. They'll be back again at Headingley on Sunday. Good night!
The player of the match is Shaheen Shah Afridi. He says that They were targeting the yorkers and trying to keep the variations going because it was very difficult to bowl in these conditions.
Babar Azam is being roared by the Pakistan supporters and can't hear the interview questions! Babar says they got off to a good start, he adapts to this format by adapting his mindset. Praises his bowlers, says they learnt from their mistakes, and the fielding was better today too.
Has Liam Livingstone booked himself a place in England's World Cup squad? It was a punch-drunk display of power hitting that Pakistan struggled to contain and he loved every minute. The other newbies found the IT20 more of a step up, Saqib, Parkinson and Gregory all got biffed by Babar and the rest.
Pakistan were measured with the ball, Shaheen was glorious with moments of bathos and finished with 3-30, Shadab Khan 3-52 and the excellent Mohammad Hasnain bowled his four overs for 28.
What an incredible evening! Deservedly won by Pakistan who kept their nerve and took it at a canter in the end. Brilliant from Babar, sensational from Livingstone, smart bowling, clever tactics, roll on Sunday!
Leg stump bingo!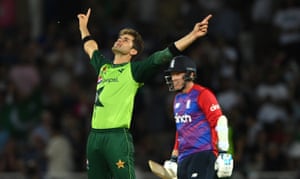 19th over: England 201-9 (Mahmood 0 , Parkinson 0) A wide to start from Rauf, then he pulls out of his run up. It's dark and crazy out there. And that's clever from Willey who reverse-ramps for four. Then Haris foxes him with a slower ball, before the wicket. Mahmood and Parky need to score 32 from 6 balls.
Amazing grab at long on! In walks Parky with T20 best of 7 not out, against Derbyshire in 2017.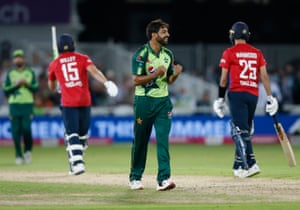 18th over: England 196-8 (Mahmood 0 , Willey 12) Willey ramps a smart four, but that's the only boundary and the finishing line takes a step over the horizon.
England need 37 from 12 balls
A high full toss, they scramble a single and Curran falls short of an excellent throw from Shadab Khan
17th over: England 189-7 (T Curran 0, Willey 6) With a rocket over long-on, Livingstone makes the fastest IT20 Hundred for England off just 42 balls! But he can't quite finish it off, perishing in an almost identical way to Gregory. Willey goes for broke, cracheting a one-kneed six from his second ball.
44 needed from 18 balls.
Calm as anything, Shaheen gathers in almost the same place. What an innings!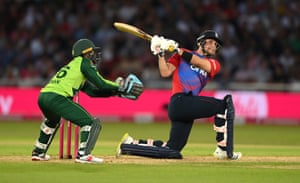 Gregory goes for the big one but Shaheen takes the catch inches from the boundary.
16th over: England 171-5 (Gregory 9; Livingstone 88) At the same stage Pakistan were 161-1. Livingstone swings and gets a top edge for four. This isn't hit and tickle – its smash and thump. A fabulous stop cuts off the boundary. Livingstone is having a ball out there, but he looks knackered. And WOW! Livingstone goes to 97 with a huge straight six as Haris Rauf misses his yorker.
56 needed off 24 balls.
15th over: England 161-5 (Gregory 9; Livingstone 82) Shaheen is back and Livingstone swings at a wide full toss and misses. He doesn't miss the next one which he log-chops into the crowd for six. A third full toss, at 90mph, brings a single. Gregory swings and misses at another. Gregory throws himself at another and the ball drops just short of a hesitant Maqsood .
72 needed from 30.
14th over: England 152-5 (Gregory 8; Livingstone 74) England have slowed and Hasnain is on target. A mix-up, overthrow, but Livingstone is safe. Finally a boundary, as Livingstone throws the bat and the ball rockets through midwicket and past the diving fielder. 81 needed off 36 balls.
13th over: England 142-5 (Gregory 5; Livingstone 68) Pakistan's fielders are decorating the rope. Shadab must take the ball with some trepidation, but England can't reach the boundaries. There's even a dot ball, a wide one, before a proper wide is called. Much better fielding and catching by Pakistan today.
12th over: England 134-5 (Gregory 0; Livingstone 66) Morgan throws himself at Imad Wasim and it sails into the setting sun and over the boundary. It does't work second time, which brings in ODI hero Lewis Gregory. Ah, sweet contrast, he plays his first ball back defensively.
Whacked with pin point accuracy to Rauf in the deep who doesn't have to move a toe. He's pumped to catch it, pressure on. And the pendulum swings again.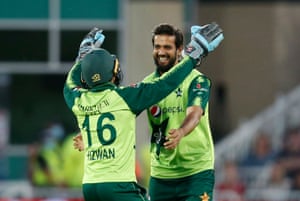 11th over: England 125-4 (Morgan 9; Livingstone 64) Babar plumps for Haris Rauf. And the fielders, and the OBOer get a breather, with a fistful of singles and a leg bye.
Not close, hits the front pad but would have waved a merry goodbye to the stumps on its way past.
10th over: England 120-4 (Morgan 5; Livingstone 63) Imad's greeting is a fat slap over cover, before Pakistan get a small breather with the single-searching Morgan. At the same stage Pakistan were 80-0. Stick that in your super computer.
9th over: England 110-4 (Morgan 2; Livingstone 57) One fears for Shadab. Livingstone stands like a statue, feet in plaster, and punches the ball straight down for six. Astonishing! Then a four brings the fastest IT20 fifty for England, off just 17 balls. Then a flat-pancacked six over long off. The impossible is suddenly looking likely!
8th over: England 92-4 (Morgan 1; Livingstone 40) Livingstone goes again, a four into the offside from Hasnain, another through the covers is well cut off by the fielder. The miserly Morgan plays out two dots then steals the strike.
7th over: England 83-4 (Morgan 0; Livingstone 33) Livingstone is in the zone. Vicious, visceral, hitting. Shadab ponders, then sends down two long hops that are both smacked into the stands, before a furious Roy gets an outside edge. Will Morgan bring a clear head or just keep sailing the boat through choppy waters? See how much harder England are going:
A leading edge straight to Babar! Can England get the runs before the wickets run out?

6th over: England 69-3 (Roy 32; Livingstone 19) Livingstone gets an outside edge, his head looking one way, the ball flying the other, high, soaring, to Mohammad Haznain who leaps but can't hold on. A four to square leg follows, then a huge SIX, hit with a boxer's jab. At the end of the power play England are going at 11.66 an over. On target.
5th over: England 50-3 (Roy 31; Livingstone 1) Hasnain bowls two dots at Moeen – is that pressure enough? and Moeen can't resist the third. Dommage. Hope he gets another go up the order. Just two off the over.
Moeen pulls Hasnain – it's high but not long and Hasnain dives to gather, then soars into the arms of Maqsood, but doesn't drop the ball!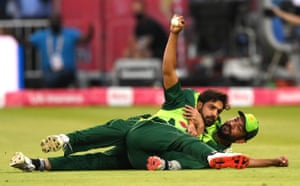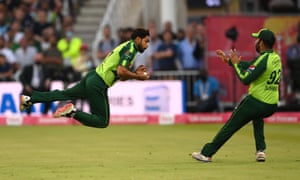 4th over: England 48-2 (Roy 30; Moeen Ali 1) Eventful. Baristow, high backlift, delivers Shaheen high into the stands, before flaying at the wrong ball. Enter Moeen. Roy then smashes a wide-one from the Marmite Shaheen for four.
Jonny's done by the pace and top-edges behind square!

3rd over: England 36-1 (Roy 25; Bairstow 5) Imad Wasim presents an orange on a china plate, Roy licks his lips and sends him right down the ground, roly-poly over the sightscreen. And another! And a third! High into the crowd on the off-side.
2nd over: England 16-1 (Roy 6; Bairstow 4) Shaheen Afridi's first ball is fired wide and misses batsman, keeper, the works ,before crossing the boundary for five wides. An lbw appeal , but missing leg, Then the wicket at 92mph before Rizwan pleads for a caught behind. Bairstow shakes his head with bemusement, Babar says no, and sure enough, there's not sign of an edge. Bairstow then pulls him behind square for a wrist-rolling four.
A sensational catch by Shaheen, diving and scooping the ball from the floor before finishing up crossed leg in a yoga position. The star man celebration!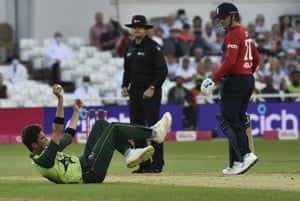 1st over: England 7-0 (Roy 6; Malan 1) The headbanded Imad Wasim starts the fightback A top-edge by Roy off the last ball reaches the boundary and that's a fair start.
The tv pictures clearly show the ball bouncing.
Shaheen Afridi wants to know if the ball touched the ground before he swallowed it at mid-off
Blimey they're out already and I haven't finished my hula-hoops. Roy and Malan attempt to out Pakistan Pakistan – in a good way.
20th over: Pakistan 232-6 ( Azam Khan 5) Comedy on calamity! The very comfortably upholstered Azam Khan drills his first ball in international cricket through the covers for four! A wide by Saqib, then a very hard dropped chance falls through Moeen's hands, before the final run out. Phew!
The third highest score England have ever conceded in a T20! This will be some chase . Time to grab a quick drink, back shortly.
Run out pushing for a second off the last ball of the innings!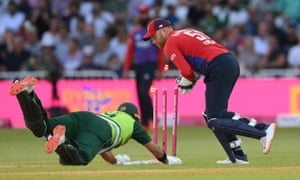 High into the heavens and captured at long-on by Jason Roy
19th over: Pakistan 221-4 ( Fakhar 26) Hafeez smells a a full toss and ping-pongs it over the square leg rope . Another full toss disappears straight down the ground. What did the Pakistan batters have for lunch?! Curran wipes his forehead with his foream an Hafeez pings him square for four, the lime green of the shirt lumious in the sun. Then, at last, the ball Curran was looking for!
At last the ball comes out right! A leg-stump yorker to die for. Hafeez strolls off happy – 24 off ten.

18th over: Pakistan 205-3 (Hafeez 8, Fakhar 26) Fakhar eyes up an attempted yorker by the returning Saqib Mahmood and pings him high and strong over long-on for six. Then again over backward square with the kitchen sink and a top edge high for another!. Twenty-four from the over. A learning opportunity says Jimmy Anderson on the radio.
Why no Moeen?
17th over: Pakistan 183-3 (Hafeez 7, Fakhar 5) Super over from Willey: the wicket, then miserly, till the last ball, a short one which Hafeez grabs and pulls up and over for six. All hail the 41 year old Hafeez!
Babar leans back and chops at Willey. A HUGE wicket but an awesome innings.
Babar looks as if he has nudged an outside edge but the umpire doesn't fancy it…
16th over: Pakistan 173-2 (Babar Azam 83, Fakhar 4) Maqsood was the leading six hitter in the PSL and he sends Tom Curran's first two balls for consecutive big un's – midwicket; long off. That won't make Jonny's finger feel any better. Then he goes one too many at a Tom Curran slower ball. Fakhar Zaman is the next man in and first ball he fences cleverly at a slower ball and sends it easing past a non-existent Third Man. Runs a go-go.
Creams a pull straight into the hands of Willey at deep midwicket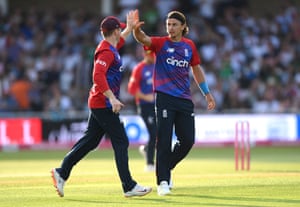 15th over: Pakistan 155-1 (Babar Azam 83, Maqsood 5)Eventful. Babar has a look at Gregory running in and decides to send him up to the top tier of the wedding cake. Brutal. Then Rizwan drills a low full toss for four, followed by that conference between Willey Morgan and Gregory, and then the wicket.
Then a DROP! Bairstow looks as if he hurt his finger, snatching at the ball, and to rub salt in the wound, the ball flies down for four. Bairstow clutches his hand in his glove – that looks painful.