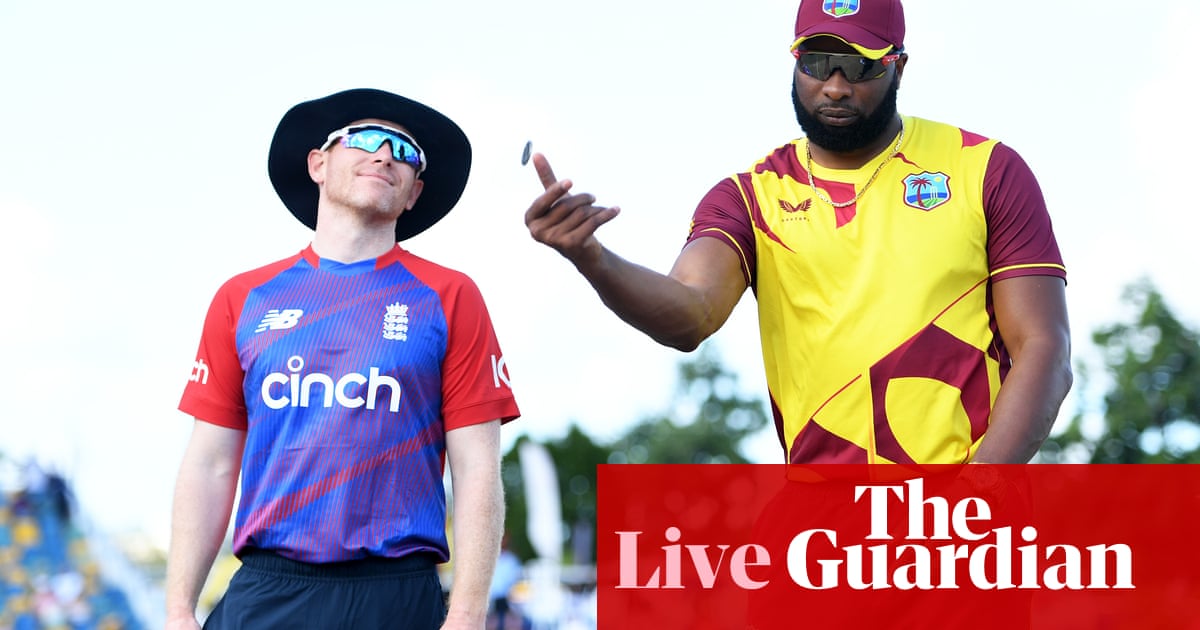 The rain has shown up, though it seems to be clearing already. The OBO's favourite commentator, Mark Butcher, has been studying the pitch. "It's not a belter," he reports, "but it's not a shocker." He reckons a par score tonight will be 150-155.
Evening everyone and welcome to the third set in this five-setter. It's perfectly poised at 1-1, but West Indies have been the better team, winning the first set 6-0 and only losing the second 7-6, after being 5-0 down. That's enough of that analogy – anyone for cricket?
It's been absorbing stuff, with West Indies shaping up suspiciously well for the world's tenth-ranked team and England struggling with their death bowling, just as they did in the World Cup semi-final against New Zealand. In fact England have a wider problem: their right-arm seam bowling as a whole.
Over the past year in T20 internationals, England's spinners have averaged 17 runs per wicket and their left-arm seamers 19, while the right-arm seamers have only managed 31. It's much the same story with economy rates: spinners 6.64 runs per over, lefties 6.78, righties 8.23. (With thanks, as so often, to Stats Guru.) The individual figures suggest that England are missing Jofra Archer, as you'd expect, but they're also missing Sam Curran, whose average, economy and strike rate over the past year are all better than Archer's.
The seamer struggling the most is the one Eoin Morgan uses the most – Chris Jordan. A pillar of this team, he's suddenly doing better as a batter than a bowler. Morgan's dilemma tonight is whether to persist with Jordan, hoping he finds his mojo and his yorker, or to send for another leftie to team up with Reece Topley, whose comeback on Sunday night, after a long and winding lay-off, was a triumph. Morgan has three other lefties up his sleeve – Tymal Mills, the master of the slower ball, who played in the first match of this series; George Garton, who is quick and can bat as well; and David Payne, who would be a seasoned novice in the Scott Boland mould.
Morgan doesn't tend to make many changes, though, and he may have a different one in mind – one Liam in lieu of another. Liam Livingstone, who has been out with oesophagitis (a pain in the throat), is thought to be fit again and could replace Liam Dawson as the third spinner, as well as sparking up England's big-hitting. West Indies, meanwhile, are expected to stick with an almost-winning team.
The venue, as for the whole series, is Bridgetown, Barbados. There's some rain forecast but only for the first hour, which shouldn't mess things up. Play starts at 8pm GMT (3pm local time), so do drop back around 7.35pm for news of the toss, the teams and the tally of lefties.