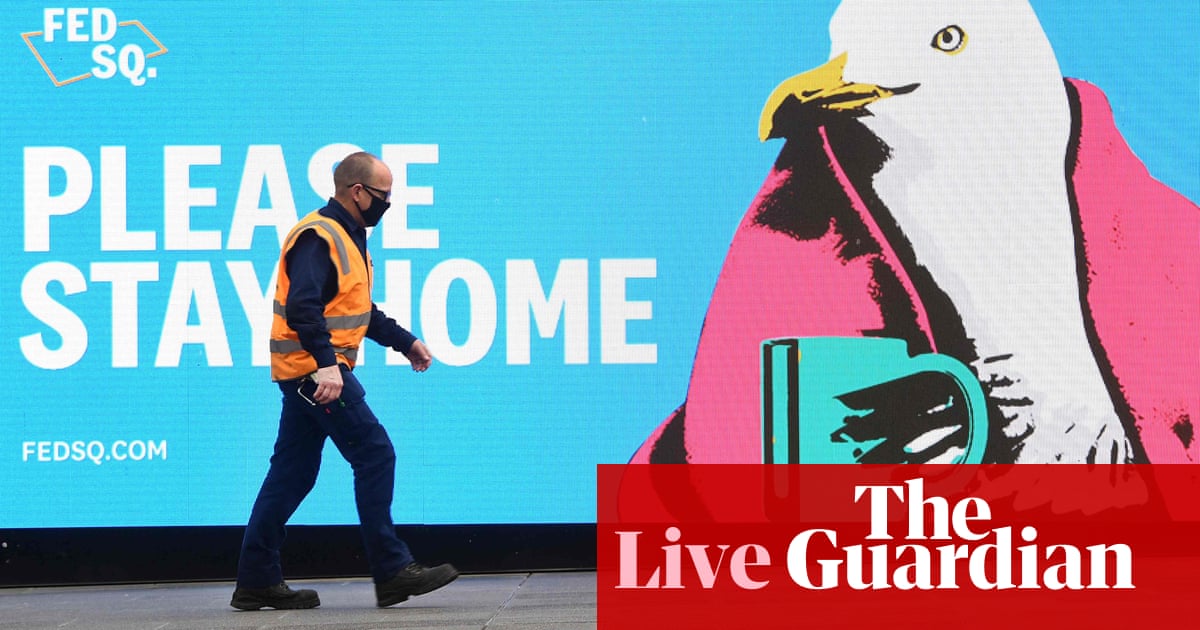 We should receive the Victorian numbers very soon.
Yesterday, there were five locally acquired cases. It's the mystery case which has authorities worried – cases which can't be linked to a previous infection tend to be the ones which extend lockdowns.
Hopefully we will find out very soon what the state of play is.
Meanwhile, Sarah Martin has an Andrew Laming update:
The controversial Liberal MP Andrew Laming, who returned to parliament earlier this month after undergoing empathy training, has defended another $15,000 in grants that went to organisations run by a local LNP branch president, Guardian Australia can reveal.
In the latest round of the Stronger Communities grant program in Laming's electorate, two grants were awarded to Redlands Salad Bowl and Community Connections Redlands Coast, both of which were co-founded by the president of the Liberal National party's Redlands branch, Craig Luxton.
The secretary of both organisations is Laming's own electorate officer, Stephanie Eaton.
Australia is still waiting to learn who its ambassador from the US will be under the Biden administration – Axios has reported it could be a Kennedy.
The US media network reports that Caroline Kennedy, who served as a second ambassador to Japan during the Obama administration, is in line for Canberra.
AAP has the latest on the mystery Covid case in a Melbourne aged care home:
A Melbourne aged care worker's "mystery case" has authorities worried, as fellow staff members and residents prepare for more COVID-19 testing and vaccinations.
Arcare Maidstone residents were locked down and placed into self-isolation on Sunday after a female healthcare worker at the facility tested positive.
The Altona woman worked at the site in the city's northwest on Wednesday and Thursday and may have been infectious at the time.
Arcare chief executive Colin Singh said no other staff members or residents had returned positive results but further testing was planned for Tuesday.
"We know this is an anxious time, but we ask that you please do not call asking for the results," Mr Singh wrote in a letter.
The Altona woman, one of five local cases reported on Sunday, tested positive despite receiving her first coronavirus jab on May 12.
Only a third of Arcare Maidstone's 110 staff and 53 of 76 residents have been vaccinated so far, and the federal government has brought forward scheduled vaccinations to Monday.
Happy Monday, everyone.
Welcome back to Guardian Australia – you have a hybrid blog today. Parliament isn't sitting as it's Reconciliation Day in the ACT and therefore a public holiday, but all the MPs are still in town, which means you get a dose of politics.
But of course, most attention is on Victoria and the fourth lockdown, particularly as authorities try to work out the link to a mystery Covid cases – a person who worked in an aged care facility.
People who are vulnerable to Covid were meant to have been vaccinated by Easter. At the end of May, we still have aged care homes where no doses of the vaccine have been administered.
What we did get this weekend though, was the deputy prime minister, and senior ministers, argue about whether it should be a "race" or not to vaccinate Australians against a virus which has caused a worldwide pandemic.
We'll cover everything that's happening in Canberra, Victoria and anywhere else you need to know about.
You've got Amy Remeikis with you for most of the day, along with the Guardian brains trust. It's a chilly day in Canberra so it's already a two-coffee and a tea situation – hope you're warm and ready to get into it.